LIVE ACTION ANIME WEB SERIES LAUNCH AT ADULTS ONLY LUXARY BAR FEATURING FORMER PLAYMATES!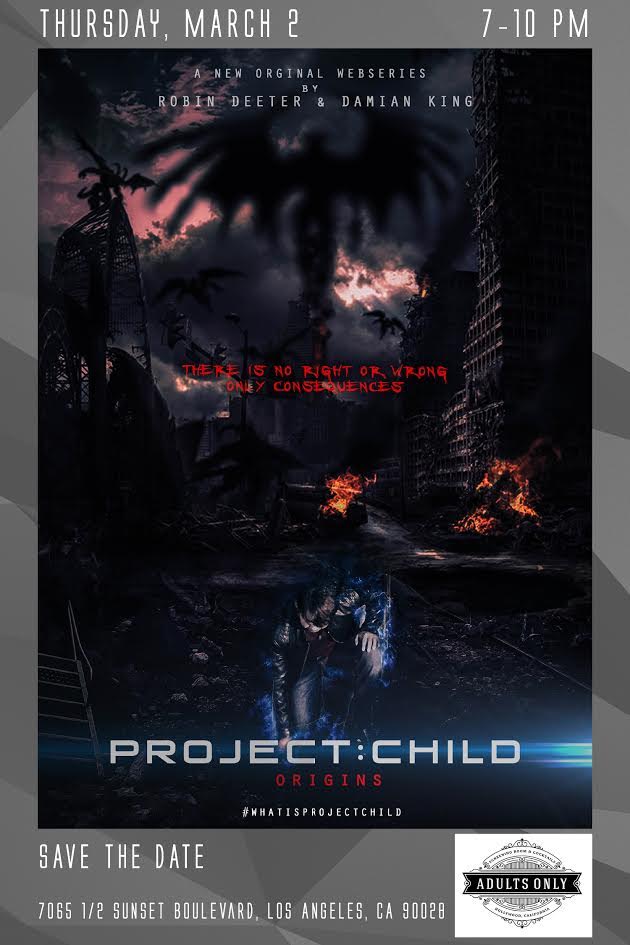 LIVE ACTION ANIME WEB SERIES LAUNCH AT ADULTS ONLY LUXARY BAR FEATURING FORMER PLAYMATES!
By Scott Green
March 1, 2017
NEW Action Web Series Project Child: Origins Welcomes Trio of Former Playboy Playmates: Irina Voronina, Raquel Pomplun and Pamela Horton To The Cast.
Red Carpet Launch Celebration Set for March 2 at Adults Only Luxury Bar in Hollywood
A trio of successful former Playboy Playmates including: Irina Voronina, Raquel Pomplun and Pamela Horton are joining the cast of Robin Deeters Project Child: Origins, a new action-based web series based on Deeters exciting book Project Child: Awakening. The web series will be celebrated with a red carpet launch party on March 2 that will take place at the Adults Only Luxury Bar in Hollywood.
Project Child: Origins will be a 10-episode action-based web series about knights, demons, and prophecy. The,series which is from the brain of Deeter and Producer/Director Damian C. King. In addition to the Playmates, Project Child will feature a multi-cultural cast with a leading Asian male role.
Hidden from the sight of ordinary people, Knight Agents under the mysterious Directorate fight biblical demons with the power of the mystical Psy Spark. Agent Derek Knowell, a highly-skilled champion of the Directorate, uncovers a sinister plot that has him questioning his allegiance.
Irina Voronina is a Russian model and former Playboy Playmate of the Year (01). She currently hosts her popular YouTube show Bunny Talks. Raquel Pomplun is the former Playboy Playmate of the Year (13), she is an actress and Wilhelmina LA Model, her recent roles include Agents of S.H.I.E.L.D and the web series INFINI. Pamela Horton was a Playboy Playmate of the Month in 2012 and currently is Playboy's Gamer Next Door. The Red Carpet event will celebrate the web series, its cast and Kickstarter launch which is being spearheaded by model/actress Malorie Mackey.
Robin Deeter commented: Bringing Project Child to life has been the fulfillment of a dream that I thought was impossible. But with the support and vision of the incredibly talented team behind Project Child, we have built a world that is far more expansive, exciting, thought provoking and complex. A rich and haunting series, filled with action, suspense, drama, mysticism, love that will ultimately ask the question, What is right, and what is wrong? Or here is no right or wrong, only consequences..
I am very excited to work with my friends on yet another exciting project, said Producer/Director Damian C. King. Project Child has everything from intense fights, to romance, cool effects, mystery and even manages to make you question what is right and wrong. I cant wait to celebrate its first steps with you all!
Project Child: Origins is a 10-episode web series from the producers and directors who brought you Project Child Awakening, and Project Child: Initiations Its first episode can even be found on YouTube under Project Child Absolution. Each episode consists of 5-8 minutes of Derek's dark history and his forging into humanity's ultimate weapon. See him battle monsters using the deadly Crusader fighting style while uncovering the mystery of the Psy Spark. Watch as he struggles with his morally complex orders from the Directorate and wonder if in the end, Derek hold onto his humanity?
Project Child: Origins is planned to begin filming in May 2017 and wrap in the late Summer of 2017. The launch of Origins is set for the Fall, with sneak peaks being available in the early fall, along with most rewards being fulfilled at that time.
Abandoned on the streets of Korea, Robin Deeter was adopted by all-American parents and their son at the age of 7. Robin dropped out of his program at the University of Colorado in Boulder and moved to Los Angeles to pursue a career in singing and songwriting. He created three albums (available on iTunes!). Today he is an executive/team leader at one of the largest precious metals firms in the country. Project Child, which he started writing 16 years ago out of sadness of the sudden death of his adopted mother from cancer, was heavily influenced by Robins life and his relationship with his family, especially his brother. He was thrilled to publish Book 1 of The Knight Chronicles and hopes to soon bring the series to the web, and, eventually, theaters. He is now living his dream making Project Child a reality.
Damian C. King has been working in Hollywood for many years as a director, stunt-coordinator, screenwriter, actor and first assistant director. He recently Produced two features The World Thumb-wrestling Federation and Kids Can which should be in circulation soon. He has directed many short films, music videos and Webseries such as Chocolate Milk Series. He also has his first feature films as Director, House of Dreams and Hungry, Ravenous, in the works. Damian has been mentored by several top-working directors in the industry, preparing him and training him for his well-anticipated career. He graduated from Virginia Commonwealth University with a Bachelor of Fine Arts Degree in Performance and has been trained in many different forms of weapons combat as well as three different forms of martial arts.
Damian founded Fantasy Forge Films, the production company of Project Child Origins with Malorie Mackey, James McInerney, Matt Pavlo and Jason carpenter. Most of which are directly involved with this venture.
Source: The Dumont Marketing LLC