Hulu and Live Nation Announce Groundbreaking Virtual Reality Music Series on Stage Featuring Lil Wayne and Major Lazer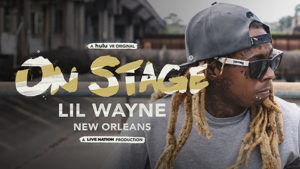 Hulu and Live Nation Announce Groundbreaking Virtual Reality Music Series on Stage Featuring Lil Wayne and Major Lazer
By Scott Green
January 5, 2017
ON STAGE Debuts January 26th With Lil Wayne Across all Major VR Platforms
Premium streaming television destination Hulu and Live Nation, the worlds leading live entertainment and ticketing company today announced a groundbreaking and immersive new virtual reality docu-series ON STAGE. The short form, multi-part series takes a deep dive into the creative process of an artists live music experience. This rare look into the artists world will go beyond the headlines and their hit songs and take the viewer on a journey of what inspires them on and off the stage.
The first episode will debut on January 26th and feature Grammy Award-winning and multi-platinum recording artist, Lil Wayne. International superstars Major Lazer the collaborative project of Diplo, Walshy Fire and Jillionaire will be the second installment available later this year. Each episode will be viewable on the Hulu VR app across all major VR devices.
In the first installment, viewers will be transported into Lil Waynes world as he offers a glimpse into his personal passions and inspirations. The episode features never-before-seen footage from Lil Weezyana Fest and gives fans a look at his life off the stage. Through the Hulu VR app, fans will have the best seats in the house and feel like theyre on stage with Lil Wayne as he performs his most popular songs.
Virtual Reality is an entirely new medium, and ON STAGE is a first-of-its kind premium music experience, said Noah Heller, VP of Emerging Technology at Hulu. Our partnership with Live Nation, a company that is synonymous with connecting music fans with their favorite artists, has allowed us to create an experience where you, the fan, are on the stage for the performance, and backstage with the artist. The result is a highly intimate experience that you cannot find anywhere else.
We are confident that virtual reality and immersive content around live music can deepen an artists relationship with fans and expand their audience, said Kevin Chernett EVP, Global Partnerships & Content Distribution Live Nation. Our content series with Hulu lets anyone transcend into an immersive world and feel like they are side by side with the featured artist a thrilling journey that fans couldnt otherwise access.
Later this year, Hulu & Live Nation will drop the next installment of "ON STAGE" featuring Major Lazer. The series will follow the group as they perform in Kingston, Jamaica and explore the roots of modern Dancehall. In addition to being immersed in a selection from their annual "Major Lazer & Friends" concert at Mas Camp, fans will walk the streets of Kingston and be transported alongside Major Lazer as the group recounts how Jamaica and its musical styles influences and inspires their music.
ON STAGE will be sponsored on the Hulu VR app by Universal Pictures. Additional episodes and artists will be announced at a later date.
The Hulu VR app is available for Daydream, Playstation VR, Oculus Rift and Samsung Gear VR headsets, with additional platforms to come soon. In addition to Hulus extensive library of virtual reality content, Hulu subscribers can stream Hulus entire library of 2D content, including current season content, past seasons of hit shows, movies and Hulu Originals, in immersive 3D environments.
See the trailer here:
Source: Live Nation