What can you remember after 60 seconds? Nissan challenges artist Stephen Wiltshire to recreate the all-new Micras design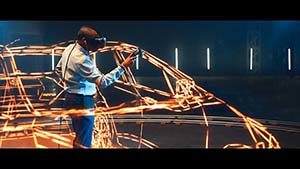 What can you remember after 60 seconds? Nissan challenges artist Stephen Wiltshire to recreate the all-new Micras design
By Scott Green
December 18, 2016
World-famous artist uses photographic memory to draw the Nissan Micra after a 60-second reveal
Swaps pen and paper for innovative Tilt Brush by Google virtual reality app
One minute, 60 seconds. It doesn't matter how you say it it's a short period of time. Would it be long enough for world-famous artist Stephen Wiltshire to study the expressive design of the all-new Nissan Micra having never seen it before and draw it accurately?
Wiltshire has a photographic memory and is best known for his vast monochrome pen-and-paper drawings of city skylines. Highly detailed, these are often created after a helicopter ride lasting just a few minutes.
But he's always keen to try new ways of working and was challenged by Nissan to draw the new Micra using Tilt Brush by Google*. It's an innovative virtual reality creative app that lets people paint in 3D using the HTC Vive VR headset.
The result is a truly stunning piece of visual art showcasing the expressive and athletic lines of the new hatchback.
"I like the Micra," said Wiltshire. "It's very futuristic, and I love the orange color. I like the shape, and I like the lights and the strong line down the side. It's a very clean design."
Drawing cars is not new for Wiltshire. As well as his architectural work, he has a love of sketching large American saloons complete with chrome detailing and white-walled tires from the fifties and sixties.
Recreating the Nissan Micra took place in a disused warehouse in Wiltshire's home in London and presented him with two unique challenges: He would be drawing in 3D rather than 2D, and he would be drawing full-size rather than to scale.
Perhaps the biggest test was that he had never before used virtual reality as a medium. But after a quick practice with Tilt Brush's hand-held controls and intuitive interface, he was clearly in his element.
The new Nissan Micra is the fifth generation and is a huge progression from the model it is replacing. Now positioned at the very heart of the European B-segment hatchback market, its expressive design is one of its key strengths.
Featuring dynamic proportions, the fluid lines are further enhanced by a vibrant palette of bold colors. The premium styling continues inside the cabin, with a contemporary "gliding wing" dashboard. Soft-touch materials and two-tone upholstery are standard across the range.
"The all-new Micra is a true expression of our Innovation That Excites brand promise and we really want to emphasise that," said Jean-Pierre Diernaz, vice president of Marketing, Nissan Europe. "We believe the new Micra's design is very memorable and challenging Stephen to draw the car, and doing so using the innovative Tilt Brush app by Google is a great way to communicate that."
Source: Nissan