UMe To Reissue The Killers' Acclaimed 2004 Debut Album, Hot Fuss On Vinyl, January 13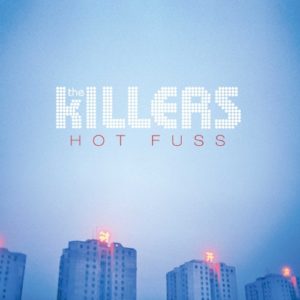 UMe To Reissue The Killers' Acclaimed 2004 Debut Album, Hot Fuss On Vinyl, January 13
By Scott Green
December 14, 2016
Five-time Grammy nominated release features hit singles, "Mr. Brightside," "Somebody Told Me," "All These Things That I've Done" and "Smile Like You Mean It"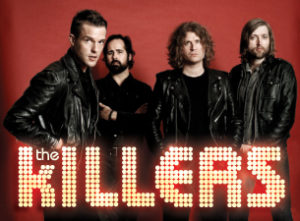 The Killers vocalist/keyboardist Brandon Flowers, guitarist Dave Keuning, bassist Mark Stoermer and drummer Ronnie Vannucci — emerged from Las Vegas, their name a tribute to the logo on the bass drum of the fictitious band seen in their favorite band New Order's music video for "Crystal." They released their major label debut album, Hot Fuss, on Island Records, June 15, 2004 in the U.S., peaking at #7 on the Billboard 200, a week after it came out in the U.K., where it quickly went to #1 and went on to spend an astounding 247 weeks, more than four-and-a-half years on the album chart. Hot Fuss has gone on to sell more than seven million copies worldwide, including three million in the U.S., and has also been certified platinum or multi-platinum in Australia, Canada, The United Kingdom and Germany as well as many other International territories.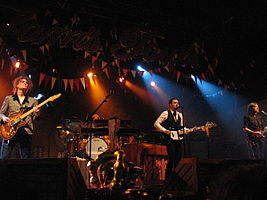 A dozen years after it first catapulted the band to international stardom, The Killers' Hot Fuss is being reissued on standard weight vinyl as a single LP by UMe on January 13. A limited edition, white vinyl LP will also be available exclusively on uDiscover.
Produced by Jeff Saltzman and recorded in Los Angeles' Cornerstone Recording Studios and Berkeley, CA's The Hearse with "Everything Will Be Alright" cut in guitarist Keuning's Las Vegas apartment Hot Fuss earned five Grammy Award nominations in 2005 and 2006, including one for Best Rock Album. "Somebody Told Me" garnered nominations for Best Rock Song and Best Rock Performance by a Duo or Group with Vocal in 2005, while "Mr. Brightside" was nominated for Best Pop Performance by a Duo Or Group with Vocal and "All These Things That I've Done" for Best Rock Performance by a Duo or Group with Vocal the following year. Among its other honors are a BRIT Award nomination for Best International Album and a Shortlist Music Prize nomination, while Rolling Stone named it #43 on its list of the "Top 100 Albums of the 2000s," #33 on the "100 Greatest Debut Albums of All Time" and #9 in its Readers' Poll of the "100 Greatest Debut Albums of All Time." The New Musical Express called it one of its "500 Greatest Albums of All Time," while the Daily Mail tapped at #3 on its list of the "Top 50 Best Albums of the Noughties."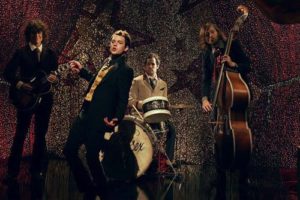 Many of the songs on Hot Fuss were recorded as home demos by Flowers in the closet of Dave Keuning's apartment for the acoustics. The album's debut single, "Mr. Brightside," became a hit single in the U.K. after the band signed with the indie label Lizard King Records. The song entered the Billboard Hot 100 at #40 on February 12, 2005, and peaked at #10 on June 11. The album's second official single, "Somebody Told Me," accompanied by a music video which paid homage to New Order, peaked at #51 on the Billboard Hot 100, but went to #3 in the U.K. upon its re-release in January 2005.
Other highlights of Hot Fuss include the Sweet Inspirations who previously toured with Elvis Presley providing the gospel choir on the album's third single, "All These Things That I've Done" (with its refrain, "I've got soul, but I'm not a soldier") and "Andy, You're a Star," along with "Jenny Was a Friend of Mine" and "Midnight Show," two parts of a murder trilogy the band would complete with "Leave the Bourbon on the Shelf," from their 2007 compilation album, Sawdust. The album's fourth single, "Smile Like You Mean It," a song the band claimed to have written in eight minutes, reached #11 on the U.K. Singles Chart and #15 on the Billboard U.S. Modern Rock tally.
The Killers are currently working on a new album slated to be released in 2017.
Track listing
Hot Fuss (one-LP vinyl)
Side A:
1. "Jenny Was a Friend of Mine"
2. "Mr. Brightside"
3. "Smile Like You Mean It"
4. "Somebody Told Me"
5. "All These Things That I've Done"
Side B:
1. "Andy, You're a Star"
2. "On Top"
3. "Change Your Mind"
4. "Believe Me Natalie"
5. "Midnight Show"
6. "Everything Will Be Alright"
SOURCE UMe