Byron Allen's Entertainment Studios Networks Adds 35 New Independent Distribution Partners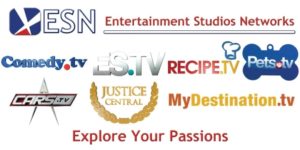 Byron Allen's Entertainment Studios Networks Adds 35 New Independent Distribution Partners
By Scott Green
November 29, 2016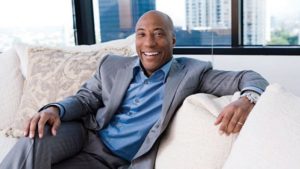 Carriage Reaches Nearly 80 Million Aggregate Subscribers Across the U.S. and the Caribbean
Entertainment Studios, Inc., (www.es.tv) one of the largest independent producers and distributors of first-run syndicated television programming for broadcast television stations, and owner of seven 24-hour HD cable television networks, proudly announces carriage expansion of its portfolio of cable networks to more independent distributors nationwide and throughout the Caribbean, now reaching nearly 80 million aggregate subscribers.
The Entertainment Studios Networks roster of independent distribution partners continues to grow. The recent rollout of the Entertainment Studios 24/7 HD cable networks includes the following MVPDs:
CABLE BAHAMAS
MCTV
CABLE TV OF STANTON
MEDIACOM
COLORADO TELEPHONE
MILES COOPERATIVE
COMMUNITY FIBER
MINERVA VALLEY
CSI DIGITAL
NITTANY MEDIA
DIGICEL
PARTNER COMMUNICATIONS
FARMERS & MERCHANTS
PAUL BUNYAN
FOOTHILLS COMMUNICATIONS
PIEDMONT COMMUNICATIONS
GARDEN VALLEY TELEPHONE COMPANY
PRESTON TELEPHONE
GOLDFIELD
SANDHILL
GOTHAM
SATVIEW
GRAND RIVER MUTUAL
SHENTEL
GTA TELEGUAM
SWEETWATER CABLE TV
GREEN DOT
U.S.A. COMMUNICATIONS
HUXLEY COMMUNICATIONS
VOSS
LAYER 3
WAVERLY COMMUNICATIONS UTILITY
MASSEY COMMUNICATIONS
WILKES COMMUNICATIONS
MATANUSKA COMMUNICATIONS
"We are thrilled to have additional independent operators on board," said Janice Arouh, President of Network Distribution & Marketing at Entertainment Studios Networks. "The independent distributors are hyper-focused on offering cost-effective engaging content as a way to offset high-cost networks and retransmission deals."
The seven Entertainment Studios 24/7 HD cable networks include:
Cars.TV – This Emmy Award-winning and adrenaline-pumping network showcases the collectors, designers, innovators, and the ultimate car enthusiasts! (www.Cars.tv)
Comedy.TV – A television network dedicated to today's funniest comedians, featuring a mix of live concert performances, talk and variety shows, sitcoms and movies. (www.Comedy.tv)
ES.TV – A television network dedicated to entertainment news, variety shows, celebrity profiles and today's hottest superstars. (www.es.tv)
MyDestination.TV – A television network dedicated to the best in travel featuring fun, exciting, exotic must-see destinations around the world. (www.MyDestination.tv)
Pets.TV – A television network dedicated to pet lovers everywhere. PETS.TV celebrates the pets we love and the people who love them. Pet News, Pet Care, Pet Health and Pet Lifestyles. (www.Pets.tv)
Recipe.TV – A television network dedicated to famous chefs, amazing recipes, and delicious cuisine from around the world. (www.Recipe.tv)
Justice Central.TV – A television network dedicated to Emmy Award-nominated court shows, legal news, and the world's biggest trials. (www.JusticeCentral.tv)
About Entertainment Studios
Chairman and CEO Byron Allen founded Entertainment Studios in 1993. Headquartered in Los Angeles, it has offices in New York, Chicago, Denver, and Raleigh. Entertainment Studios owns seven 24-hour HD cable television networks serving nearly 80 million subscribers: PETS.TV, COMEDY.TV, RECIPE.TV, CARS.TV, ES.TV, MYDESTINATION.TV, and JUSTICE CENTRAL.TV. The company also produces, distributes, and sells advertising for 40 television programs, making it one of the largest independent producers/distributors of first-run syndicated television programming for broadcast television stations. With a library of over 5,000 hours of owned content across multiple genres, Entertainment Studios provides video content to broadcast television stations, cable television networks, mobile devices, multimedia platforms, and the World Wide Web. Our mission is to provide excellent programming to our viewers, online users, and Fortune 500 advertising partners.
In 2015, Entertainment Studios purchased Freestyle Releasing, a full-service, theatrical motion picture distribution company that specializes in representing independent companies, major studios, and mini-major studios for the purpose of exhibiting their films as first-class theatrical releases. The co-founder and principal of Freestyle Releasing, Mark Borde, is a highly-regarded and experienced motion picture veteran with decades of respected work in the industry. The digital distribution unit of Freestyle, Freestyle Digital Media, supplies quality commercial film and TV content directly to all US VOD/SVOD rental DVD/Kiosks and theaters using the latest cloud-based technologies to automate digital workflow. Freestyle Digital Media provides our content audience a positive digital viewing experience on every device everywhere.
In 2016, Entertainment Studios purchased TheGrio, a digital video-centric news community platform devoted to providing African-Americans with compelling stories and perspectives currently underrepresented in existing national news outlets. TheGrio features aggregated and original video packages, news articles, and blogs on topics that include breaking news, politics, health, business, and entertainment. Originally launched in 2009, the platform was then purchased by NBC News in 2010. In 2014, TheGrio founders purchased their company back from NBC News and has since tripled its traffic rate. The digital platform remains focused on curating exciting digital content and currently has more than 20 million annual visitors.
For more information, visit:
www.es.tv
www.freestylereleasing.com
www.freestyledigitalmedia.tv
www.thegrio.com
SOURCE Entertainment Studios, Inc.