Review of the Award Winning Short Film: 'Birthday' By Chris King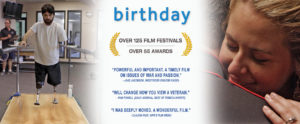 Review of the Award Winning Short Film: 'Birthday' By Chris King
By Scott Green
November 24, 2016
The plot:
When a young military wife gets news that her Marine husband has been severely wounded in combat, she discovers that their life ahead is going to be an overwhelming – yet amazing – journey.
The review:
This film packs a lot of powerful in a short film. The film is inspired by the courage and struggles of wounded veterans, and their loved ones who care for them. The direction is first rate with fantastic performances by the films stars. In a short 12 minutes the film takes you on a journey that goes from the looking forward of a Marine coming home to the devastation of the Marine being severely wounded in Afghanistan.The viewer goes on an emotional roller coaster as you get to see how both the Marine and his wife go through the struggles of recovery and courage required from both of them. This film has deservedly earned all of the awards and accolade. It's definitely a must see and does a real justice to all those that have served and continue to serve.
About the film, its director and stars:
Birthday by Chris Kings has won over 55 awards at various film festivals
Award-winning filmmaker Chris Kings romantic drama has been winning the hearts of film festival audiences and jurors everywhere. As well as being selected for 130 film festivals and winning over 55 awards, Birthday recently won the Jury Award at the Oscar qualifying St. Louis International Film Festival.
Chris King is a multiple award-winning filmmaker. Touching Down, his debut feature film, received numerous film festival awards and nominations. His subsequent short films have played at over 200 film festivals, have been seen in over 140 cities in 90 countries, and have played internationally through the ShortsHD Channel. King was inspired to write and direct Birthday after becoming friends with a marine who was severely injured after throwing himself on a grenade. Heather King produced Birthday, alongside her husband Chris.
The film stars:
Mandy More (Amazing Technicolor Dreamcoat, A Wonderful Life, 42nd Street, Hawaii Five-0) and Chris Gouche (The Social Network, References to Salvador Dali Make Me Hot, Picasso at the Lapin Agile, Kitchen Sink).
Chris Kings Birthday has been sweeping the awards boards, making this magical little film a must see. The multitude of awards include being selected for 8 Oscar qualifying film festivals, winning two Best Director Awards, seven Best Actor Awards, three Best Editing Awards, 12 Best Short Film Audience Awards, 22 Jury Awards and more!
See the trailer here: