Artist Spotlight with Erick Rodriguez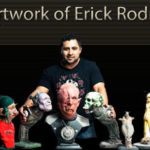 Artist Spotlight with Erick Rodriguez
By Scott Green
October 30, 2016
At ScareLa in Pasadena, California, I had the pleasure of meeting Erick Rodriguez. As you can see from the pictures below I was immediately drawn to his work. His display of work was incredible and I was able to speak to him for a few minutes while he was working at the con.
I reached out to Erick with some questions and he was kind enough to answer. First a little about Erick Rodriguez and his company IMAGINERICK:
Erick Rodriguez is a self taught artist raised in Los Angeles who at very early age experienced success by receiving a 2,500 cash award from The Bic Corporation in New York City at age 10.
Erick received a scholarship at the age of 18 to the Pasadena Art Center. Erick Rodriguez specializes in creature design character development. His first creative expression was channeled through drawing and painting worlds unknown and beyond which has led him to his next evolutionary step in sculpturing in 3D forums creating life-likes creatures almost impossible to imagine let along create them.
His company, IMAGINERICK is a studio dedicated to offering a wide range of services specialize on creature and character design, props, film quality masks for collectors and art buyers, and prototypes for toys. They provide sculpting, illustration, creative art direction, commissioned work, life casting and acrylic eyes and teeth design.
IMAGINERICK can provide everything from a simple concept sketch to a fully-rendered maquette sculpture. As well as 3D models which can then be integrated and digitally scanned for 3d form, or utilized for pre-visualization to sell a story with stunning imagery to complete the vision.
Interview with Erick Rodriguez:
Q: How is your work divided up as far as the type of work you do? Such as props, creature design, concept work, etc
A: Well it all depending of the project at hand.
Q: Do you have a favorite project that you worked on?
A: Yes last year I worked on the design team for Star Trek Beyond.
Q: How long does it take to create your work?
A: Time frame from 3 weeks to 2 months depending the details and the design and the complexity.
Q: I see that you worked on Star Trek Beyond. Can you tell me about your experiences working on that film?
A: on star trek beyond it was a great experience do to working with other fantastic designers.It's like a magic when you have so much artist working on one film it's synergy in the room.
Q: Have you worked on any other movies or tv shows? If so, is there a difference between the two?
A: Yes I have Spiderman ,Guardian of the Galaxy 2, tv shows Grimm, Sleepy Hollow,Comedy Central ,Mataor. the different the time you get to complete the art work.
Q: Have you worked on any theme park attractions?
A: I have worked on Theme park Universal Halloween Nights I been a designer and sculptor for 7 years.
Q: Are there any other mediums you work in, such as painting, photography, cgi, animation, etc?
A: I do like to work with photoshop and zbrush to bring concepts to life.
Q: Do you have any upcoming projects you'd like to let us know about?
A: I do have a gallery show Nov the 5th at the Hive Gallery in downtown I'm featuring some of my work.So come out and check so cool work.You can follow me at Instagram and Facebook at imaginerick.
Q: Do you have any upcoming appearances at any cons?
A: Not at the movement till next year Monsterpalooza 2017.
For more information on Erick and his work you can check him out at:
Website: http://www.imaginerick.com/
Twitter: https://twitter.com/imaginerickfx
Facebook: https://www.facebook.com/imaginerick
Instagram: https://instagram.com/imaginerick/