OZOBOT UNVEILS MARVELS THE AVENGERS ACTION SKINS FOR EVO ROBOT Esteemed Robot Creator Integrates All-New Action-Packed Adventure With Smart And Social Evo

OZOBOT UNVEILS MARVELS THE AVENGERS ACTION SKINS FOR EVO ROBOT
Esteemed Robot Creator Integrates All-New Action-Packed Adventure With Smart And Social Evo
Evollve Inc., innovative maker of the Ozobot Evo, announces today an action-packed experience with the launch of the Evo Marvel Action Skin. Transforming the smart and social Evo into the ultimate super robot, Evo Marvel Action Skin harnesses the powers from Stark Academys mightiest heroes (Captain America, Iron Man, Black Widow and the Incredible Hulk) to provide an epic learning and gaming experience.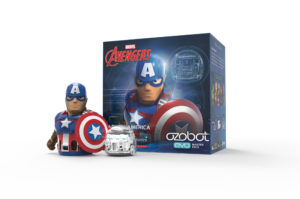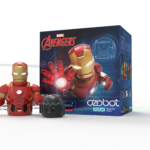 Users simply attach the Marvel Action Skin to the Evo robot to unlock the features and behaviors that reflect the personalities of the Marvel characters through character quips, LED colors, animations and special movements. By accessing the Stark Academy themed mobile app, gamers and learners can train to be the next-generation heroes. Users will be able to download missions, races and challenges to defend a planet on the brink of destruction or take on the evilest super villain, Ultron (also available as a Evo Marvel Action Skin). Each connected Evo Marvel Action Skin will provide the following features but are not limited to:
Stark Academy Themed Mobile App User-Interface
OzoChat for Hero Interaction (Gated Chat for ages 13 and under)
User Control (Range up to 30 ft)
Collision Detection with Infrared Proximity Sensing
Character LED Colors and Skin Illumination
Character Behaviors and Movement Animation
Character and Content Downloads
45+ Minute Playtime
See the images here for the various skins and the Ozobot:
At Ozobot, we believe that STEAM (Science, Technology, Engineering, Arts and Mathematics) skills are 21st century super powers, said Nader Hamda, CEO and Founder of Ozobot. Were thrilled to have partnered with Marvel in creating the heroic Evo Marvel Action Skin and blending the exciting experience that the Avengers deliver with the skills and creative thinking Evo encourages.

Individual skins will retail for $29.95 and the master pack including 1 Evo and 1 Marvel Skin will retail for $124.95. Action Skins for Captain America and Iron Man will be available November. Additional skins including the Incredible Hulk, Black Widow and Ultron Action Skins will be available in 2017. Pre-order will begin October 6th on the Ozobot website and end of October on Amazon. Evo Marvel Action Skins will also be available at major retailers including ToysRUs, Barnes & Noble and Amazon during Thanksgiving. For more information on Ozobot and the new Evo Marvel Action Skins, please visit www.ozobot.com. For more information on Marvel, please visit www.marvel.com