Brave Frontier Celebrates 3 Yr Anniversary and Halloween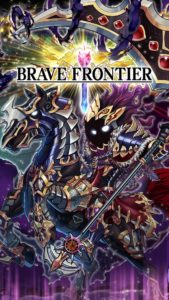 Brave Frontier Global Gets into the Halloween Spirit and Kicks off its 3rd Anniversary Extravaganza
By Scott Green
October 27, 2016
Brave Frontier Global celebrates its 3rd Anniversary milestone and its reach to Millions of Players ; Fans can look forward to Spectacular Treats, including the Unit of Choice Anniversary Login reward that will run until early December
gumi Inc.s Brave Frontier Global has got into the festive spirit and rolled out its Halloween and 3rd Anniversary updates today.
Starting from October 27 to November 8, players can enjoy the spooktacular new look in-game, enjoy a variety of treats as well as recruit Abyssal Witch Ciara (Ciaras Omni Evolution upgrade) and Fallen Knight Galtier the special Global Exclusive 7* Halloween unit available for a limited time period at the Summon Gates.
Denizens of the dark, Ciara or Galtier will stand guard at the Hellborn Nightmare dungeon. Players who dare challenge them and survived to tell the tale will be handsomely rewarded with the rare materials needed to craft Ominous Orb and Demonic Skull, the new Halloween Spheres.
Brave Frontier Globals exuberant 3rd Anniversary celebrations has kicked off. From October 21 to December 9, fans will be thrilled by the array of commemorative content and unique in-game rewards that are in place to thank the community for their support:
Anniversary Login Bonus Campaign: Players can claim unique prizes when they log in during any of the 30 days in the campaign period, to receive:
– Global Exclusive Elgifs, up to 15 Gems, 1 Summon Ticket and more!
– FREE Unit of Choice upon meeting 30 Day Log In requirement (More info at http://bit.ly/2eZ1kUF)
Players Polled First Choice, Zenia receives an Omni Evolution Upgrade and a unique unlockable Alternate Portrait Art
Rerun of the Top 3 Players Choices Vortex and Dungeons
Souls Training Ground Dungeon is accessible with Half Energy and Double EXP reward from October 31 to November 6
New Items, Giveaways, Limited Time Offers and more!
An exciting new feature and Global Premiere 3rd Anniversary Collaboration awaits and will be revealed in November.
To keep up to date with the 3rd Anniversary updates, visit http://bit.ly/BFGlobal3rdAnnivEvents
or follow Brave Frontiers social media and its
Official 3rd Anniversary Hashtags, #BFGlobal3rdAnniversary #3BraveYearsAndMore
Brave Frontier is available for download globally on iOS, Android, Amazon and Windows Phone devices.
Note: All dates mentioned are PST.
Brave Frontier updates are available on:
Facebook:http://www.facebook.com/BraveFrontierGlobal
Twitter: https://twitter.com/bravefrontiergl
YouTube: http://www.youtube.com/user/BraveFrontierGlobal
Official Site: bravefrontier.gumi.sg


Founded in 2007, gumi Inc. (Tokyo Stock Exchange: 3903) is a leading global mobile game publisher and developer headquartered in Japan, with overseas operations in China, France, Korea, Singapore, Taiwan and the United States. The company has proven success in launching titles worldwide, such as the widely popular role playing games Brave Frontier and Phantom of the Kill. With ongoing publishing and development projects on various platforms, including iOS, Android, and more, gumi aims to change the world through innovative entertainment products and services, including both original content and collaborations with popular IP. For more information, please visit http://www.gu3.co.jp/en/