The Adorable 'World Of Final Fantasy' Now Available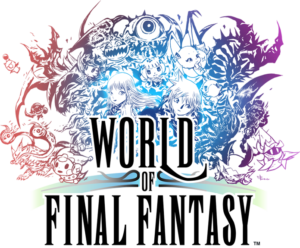 The Adorable 'World Of Final Fantasy' Now Available
Collect and Evolve Over 200 Mirages to Fight Alongside in Battle
By Scott Green
October 25, 2016
Parents and young players are sure to enjoy the family-friendly adventures that lie within today's release of WORLD OF FINAL FANTASY. This latest addition to the FINAL FANTASY franchise from SQUARE ENIX is now available for the PlayStation4 computer entertainment system and PlayStationVita handheld entertainment system.
Combining classic RPG elements with an all-new stacking active time battle ("ATB") system, players will lead twin siblings, Reynn and Lann, on their journey through the mysterious world of Grymoire. On a search to rediscover their lost memories, the heroes will encounter over 200 unique and wonderful creatures, known as Mirages, and a whole host of legendary FINAL FANTASY characters. Players can capture, customize and evolve their Mirages strategically stacking to defeat even the most ferocious of foes.
WORLD OF FINAL FANTASY is now available for the PlayStation4 system for $59.99 and the PlayStationVita system for $39.99. The Day One edition includes extra digital content, including an exclusive Sephiroth summon and the Japanese voice-over option add-on.
Related Links:
Official Homepage:
www.worldoffinalfantasy.com
Official Facebook Page:
www.facebook.com/FinalFantasy
Official Twitter:
www.twitter.com/FinalFantasy
WORLD OF FINAL FANTASY, a brand-new title in the FINAL FANTASY franchise, combines classic RPG gameplay mechanics with fresh and imaginative visuals to welcome both fans and newcomers to the series. Players will lead a pair of twins through varied FINAL FANTASY worlds and capture and raise such adorably familiar beasts as cactuar, chocobo and behemoth to discover alternate forms and learn new abilities. This title is rated E10+ (Everyone 10+). Please visit the Entertainment Software Rating Board (ESRB) website at www.esrb.org for more information about ratings.

Square Enix, Inc. develops, publishes, distributes and licenses SQUARE ENIX, EIDOS and TAITO branded entertainment content throughout the Americas as part of the Square Enix group of companies. Square Enix, Inc. is affiliated with a global network of leading development studios such as IO Interactive, Crystal Dynamics, and Eidos Montral. The Square Enix group of companies boasts a valuable portfolio of intellectual property including: FINAL FANTASY, which has sold over 115 million units worldwide; DRAGON QUEST, which has sold over 68 million units worldwide; TOMB RAIDER, which has sold over 46 million units worldwide; and the legendary SPACE INVADERS. Square Enix, Inc. is a U.S.-based, wholly-owned subsidiary of Square Enix Holdings Co., Ltd.
More information on Square Enix, Inc. can be found at: http://na.square-enix.com/
WORLD OF FINAL FANTASY 2016 SQUARE ENIX CO., LTD. All rights reserved. CHARACTER DESIGN: TETSUYA NOMURA / YASUHISA IZUMISAWA
WORLD OF FINAL FANTASY, the WORLD OF FINAL FANTASY logo, FINAL FANTASY, CHOCOBO, CRYSTAL DYNAMICS, DRAGON QUEST, EIDOS, IO INTERACTIVE, SPACE INVADERS, SQUARE ENIX, the SQUARE ENIX logo, TAITO and TOMB RAIDER are registered trademarks or trademarks of the Square Enix group of companies. All other trademarks are the property of their respective owners.
SOURCE Square Enix, Inc.
Web Site: http://www.square-enix.com