Fanbase Press Introduces Latina Superheroine in Bilingual QUINCE Comic Series
Fanbase Press Introduces Latina Superheroine in Bilingual QUINCE Comic Series
By Scott Green
October 25, 2016
Fanbase Press is overjoyed to announce the newest addition to its publishing slate with Quince, a 15-issue, bilingual, creator-owned digital comic book series that follows a year in the life of Lupe, a 15-year-old girl who discovers that her quinceaera brings with it a super cool party . . . and superpowers. Emphasizing diversity, family, and female empowerment, Quinces creative team includes sisters Kit Steinkellner (writer – Z: The Beginning of Everything) and Emma Steinkellner (artist – Pow Slam Sparkle) and creator Sebastian Kadlecik (Penguins vs. Possums).
In Quince, Lupe is just your average, insecure, well-meaning, occasionally cranky teenage girl whose life is completely turned upside down when she discovers she has superpowers at her quinceaera. Her quince powers only last as long as shes fifteen, so over the course of this rollercoaster year, we follow the adventures of Lupe as she figures out what it really means to be a hero.
A few years ago, I went to a couple quinceaeras back to back, and it struck me that I could think of no more nerve-wracking situation when I was turning 15 than standing in front of my family, friends, and strangers with all eyes on me, says Quince creator Kadlecik. I also noticed my nieces love dressing up as superheroes. Still, I couldn't help but take note of the fact that here were two young Latinas, and it sure would be cool if they had some more heroes that looked like them, both in a mask and out of one.
The comic book series will be released digitally through ComiXology on the 15th of every month, starting on January 15, 2017. Each issue will be released digitally in English and Spanish, courtesy of translator Valeria Tranier (The Maze Runner, Friday Night Lights, Doctor Who). In addition, the English-language series will be collected into a printed trade paperback that will be released on Monday, October 22, 2017.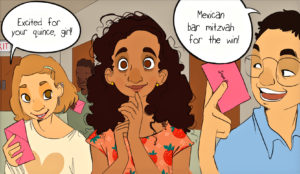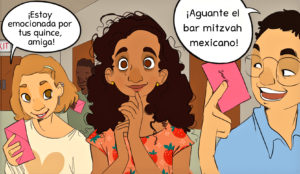 So many of us are still waiting for our letter from Hogwarts or for that blue police box to land on our doorstep, says Quince writer Kit Steinkellner. Part of the fun of being a fan is falling in love so hard with a story that you start wishing for impossible things. My dearest hope for Quince is that some of our readers can add getting superpowers on my quince to their list of impossible things to wish for.
The Quince trade paperback is currently available for pre-order through the Fanbase Press website (www.fanbasepress.com), and the trade paperback will be released for sale on October 22, 2017. Pre-orders made by August 1, 2017, will receive an exclusive sketch by artist Emma Steinkellner, and all pre-orders customers will receive an exclusive Quince print.
I love looking at the history of women and girls in superhero comics, says Quince artist Emma Steinkellner. Theres always these fun, strange, little elements of the current culture that worm their way into these stories. The stories of being a girl or a woman intersect in these weird and illuminating ways with the classic story of negotiating your own superpowered uniqueness. With all of the expectations and pressures and joys of being a teenager in our world, we wanted to make sure those were a part of Lupes world.
Founded in 2010, Fanbase Press (formerly Fanboy Comics) is a comic book publisher and an online community supporting other creators and fans through daily reviews, interviews, and podcasts that span the pop culture spectrum. Fanbase Press seeks to provide an outlet for up-and-coming artists and writers with a desire to create new works and media.
Fanbase Press previous graphic novels, Something Animal, Identity Thief, The Arcs, Fearworms: Selected Poems, Penguins vs. Possums, and Hero Hotel, are available online at www.fanbasepress.com and digitally through ComiXology.
For more information on Quince, please visit www.QuinceComic.com or www.fanbasepress.com. Quince may also be found on Facebook and Twitter, @QuinceComic. Celebrating your quinceaera? Send themyour #QuinceSuperhero photo on Facebook!
Source Fanbase Press