China Entertainment Group Partners With The QYOU Network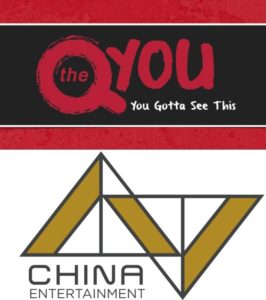 China Entertainment Group Partners With The QYOU Network
By Scott Green
October, 14, 2016
Agreement Will Bring New Video Trends to China's Youth Audience
China Entertainment Group http://www.chinaentertainment.us/ and The QYOU Network http://theqyou.com/ have reached an agreement where China Entertainment Group will officially distribute The QYOU video packages to China's main online video platforms, YouKu, LeTV, Weibo, Tencent and others.
China Entertainment Group is the first company in China cooperating with The QYOU, connecting it with a massive Chinese market. China Entertainment Group will curate trending sports, drama and comedy videos from The QYOU's deep library, translate them to Chinese, and release them on Chinese video platforms. With this collaboration, Chinese millennial audiences can:
Gain access to content created by artists outside of China
Interact with Internet celebrities worldwide
Keep up with global media trends
Stream the latest viral content
And watch the hottest videos online!
Current audiences, especially young Internet viewers, are not satisfied with traditional TV services any more, preferring shorter videos with creative content instead. They also tend to be more open towards streaming on mobile devices. This is exactly what The QYOU delivers. The QYOU enables viewers to watch videos at any time and by any device they want.
Bob Reid, VP of Business Development and Sales at The QYOU, added:
"Launching a 'best of YouTube' channel in China with China Entertainment's cooperation is a win-win for everyone involved, from the distribution platforms (YouKu, Tencent, LeTV, Weiboand others) to Chinese consumers. As the world's leading curator and packager of internet video for millennial audiences, The QYOU expects to grow our audience from 10+ million users to over 60 million users by the end of 2016 and beyond, with reach from Africa to Europe, to the Middle East and North & South America. We are thrilled at expanding into Asia and starting with China!"
China Entertainment Group is a young company whose goal is to understand their audience's content preferences. This is why The QYOU chose them as its partner. Sharing the same idea and goal, The QYOU and China Entertainment Group will create video content for young viewers, bringing new trends to online video in China. While the internet continues to connect the entire world, the entertainment marketplace specifically continues to see growth at an incredible rate. This makes the collaboration between QYOU and China Entertainment Group advantageous for both sides.
– Based in Los Angeles, The QYOU was founded in 2014 and is the world's first company focusing primarily on curating and programming short videos for a range of digital entertainment platforms. Their strategy includes cultivating licensed short video content and distribution to linear and on-demand channels, mobile apps, custom shows and influencer marketing campaigns. Their video library showcases thousands of creators and boasts more than two billion views of original content.
– China Entertainment Group is a Sino-US media production and marketing company with regional headquarters in Los Angeles and Beijing. Founder Coca Xie, at 25 years old, has years of experience working in both Hollywood and Chinese entertainment markets.
SOURCE China Entertainment LLC