Diana Krall's Classic Holiday Album "Christmas Songs," Featuring The Clayton/Hamilton Jazz Orchestra, Released Back On Vinyl via Verve Records/UMe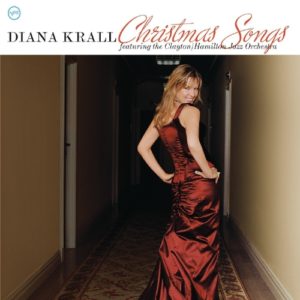 Diana Krall's Classic Holiday Album "Christmas Songs," Featuring The Clayton/Hamilton Jazz Orchestra, Released Back On Vinyl via Verve Records/UMe
#1 Jazz and Holiday Album Reissued As Double LP
By Scott Green
October 14, 2016
Diana Krall's beloved holiday album, Christmas Songs, is now available back on vinyl as of today, Friday, October 14 via Verve/UMe. Originally released to wide spread critical acclaim in 2005, the album featuring the GRAMMY Award-winning pianist/singer backed by the Clayton/Hamilton Jazz Orchestra was the #1 Jazz and #1 Holiday record in the U.S. upon release, and #17 in the Top 200. The album, which is being made available as a double LP just in time for the holidays, can be ordered and streamed here: https://UMe.lnk.to/DKChristmasSongs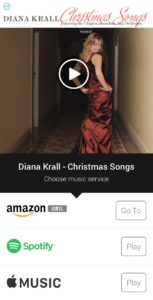 Christmas Songs follows the vinyl release of eight essential Krall albums this past summer as part of Verve's ongoing 60th anniversary celebration. On July 15, Krall's acclaimed records All For You, Love Scenes, When I Look In Your Eyes, The Look Of Love, Live In Paris, The Girl In The Other Room, From This Moment On and Quiet Nights were released as 180-gram double LPs.
Christmas Songs was co-produced by longtime friend and fellow GRAMMY Award-winner Tommy LiPuma, and features the talents of renowned bassist/arranger John Clayton (Count Basie, Duke Ellington), guitarist Anthony Wilson (Chris Botti, Michael Bubl), drummer Jeff Hamilton (Rosemary Clooney, Natalie Cole) and bassist Bob Hurst (The Tonight Show with Jay Leno, Saturday Night Live). The Clayton/Hamilton Orchestra accompanies Krall for season standards including "Let It Snow," "I'll Be Home For Christmas," "Santa Claus Is Coming To Town," and "Jingle Bells," while legendary composer Johnny Mandel contributes a string arrangement to "Count Your Blessings Instead of Sheep." Rounding out the album are perennial favorites "Have Yourself A Merry Little Christmas" and "Christmas Time Is Here" with a band that includes guitarist Russell Malone.
"I feel that this recording has allowed me to do something I have always wanted to do, in the tradition of the great singers who recorded with the likes of Count Basie, Duke Ellington, Billy May, and, of course, Johnny Mandel, who arranged some of the songs on this album," she noted before originally releasing the album over a decade ago.
"Ray Brown told me once that you should feel like dancing when you hear this music. I hope people do," she adds. "Christmas has always been about music, coming home and gathering together with family and friends to sing and celebrate this joyous time of year. This recording represents the incredible joy that Christmas means to me."
Krall's swinging rendition of "Let It Snow" is featured on UMe's holiday playlist simply titled "Christmas." The 70-song playlist features some of the biggest songs and artists in the holiday canon and pairs timeless classics from Frank Sinatra, Stevie Wonder, The Ronettes, Nat King Cole, Ella Fitzgerald and The Carpenters with modern staples from Mariah Carey, Ariana Grande, Justin Bieber, Sam Smith, Mary J. Blige and many others for an eclectic and festive playlist sure to be the perfect soundtrack for your holidays. Stream via Spotify here: http://smarturl.it/UMeXmasPlaylist