Fallout: Raiders packs, plus Nuka Cola Girl & Zetan unleashed!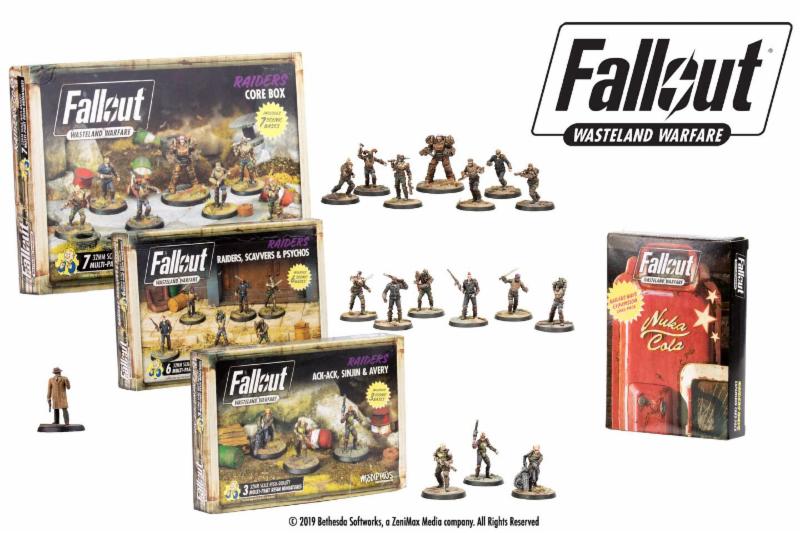 Fallout: Raiders packs, plus Nuka Cola Girl & Zetan unleashed!
Ruthless and aggressive, gangs of Raiders can be found across the Wasteland scavenging and stealing to survive. Led by the strongest and most cunning among them, Veteran Raiders have often managed to piece together rusting suits of scrap Power Armour.
Comprises:
1 x Veteran in Raider Power Armour
3 x Raiders
2 x Psychos
1 x Scavver
7 x scenic bases
Raiders bring are mix of cheap and somewhat disposable troops armed with basic scrap ranged weapons and blades. Chem-crazed Psychos race to close with the enemy and tear them apart in melee, or else send their foes reeling with grenades. Meanwhile, the savvy Scavvers hang back and pick off chosen targets with accurate rifle fire.
Comprises
2 x Raiders
2 x Scavvers
2 x Psychos
6 x scenic bases
Some of these gangs are led by iconic villains such Sinjin and his right hand woman Avery who bring high ranged ability unique buffs to support their followers and make good leader choices for any game. Ack-Ack and her gang set up base in the Olivia Satellite Station. Known for her raids on local farms and settlements, which are always punctuated by the rapid fire of her favourite Minigun.
Comprises
1 x Ack Ack
1 x Sinjin
1 x Avery
3 x scenic bases
This bundle also includes the Raiders Expansion card pack which contains 203 cards containing new profiles, AI cards, items, quests, mods , perks and more to allow players to use the new models in wave 2 and customise their Fallout: Wasteland Warfare miniatures.
Wave 2 arrives with a new faction in the Raiders, as well as new profiles for Creatures and Robots to allow players to further increase their forces. Joining them are the Mysterious Stranger and notable equipment like the X01 armour suit and the Gauss Rifle.
| | | | | | |
| --- | --- | --- | --- | --- | --- |
| | A single miniature of the iconic Nuka-Cola girl, a character created by the Nuka-Cola Corporation whose image adorns promotional material all across the wasteland. | | | Available at last, an alien Zetan miniature for your Fallout: Wasteland Warfare games! This detailed miniature depicts a three-fingered alien with its distinctive blaster pistol! | |
Check out the
Fallout: Wasteland Warfare download page
where you can find a pile of downloads including updated Force Lists for the Brotherhood of Steel, Super Mutants, Survivors, Item & Unit Costs, Wave 2 Scenarios plus Leader, Mod, Perk, Power Armor, Reference, Unit and Weapon cards files .
We hope you enjoy this latest addition to our
Fallout: Wasteland Warfare collection
, and look out for more great releases coming soon, including four new scenery packs: Street Scatter, Searchables, Lockers and Cases & Crates.t