"LADY HATER" Review and Interview with Alexandra Barreto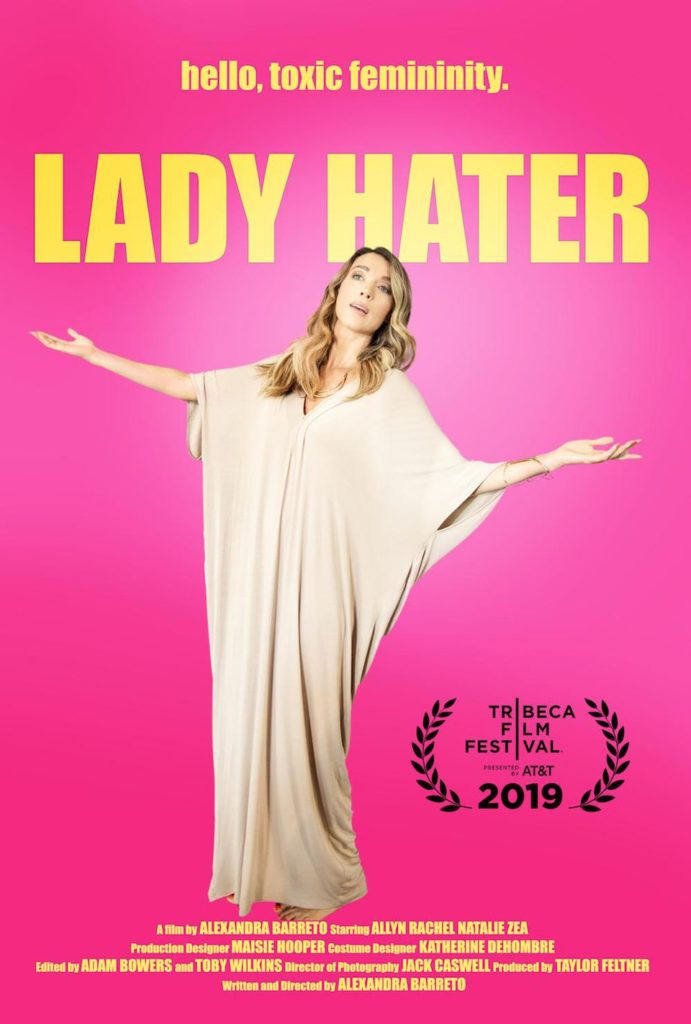 "LADY HATER" Review and Interview with Alexandra Barreto
Alexandra Barreto's "Lady Hater" is screening at the Oscar-Qualifying 2019 HollyShorts Film Festival on August 16, 2019
This is Alexandra Barreto's directorial debut. The Puerto Rican/Italian actress is best known for her work on the Freeform hit series, "The Fosters."
"Lady Hater" is about a woman, Sam Hardy (Allyn Rachel), who thinks she's going to a yoga class but instead gets stuck in an all-female goddess seminar. The film showcases a diverse group of women coming together to explore the idea of what it means to be a woman, and the ridiculous expectations that have been put upon them by society, but mostly by themselves.
Review:
"Lady Hater" is a film that presents a lot of ideas of what is expected of women, both internally and externally. Hopefully I've gotten the premise correct and haven't mansplained it. This is a really enjoyable film that says a lot in a short time but does it in a really humorous way. It's got a great cast and Alexandra Barreto has made a really strong film for her directorial debut. If you get the chance you should catch this film. I'm looking forward to seeing more work from Alex going forward. I definitely recommend this film!
Audiences can catch the film on Friday, August 16th at 10pm, at the TLC Chinese Theaters in Hollywood.
See the trailer here:
Alex thank you for taking the time to answer these questions.
Interview with Alexandra Barreto
1. I enjoyed Lady Hater. I thought it was a good film that said a lot in a short time. What was the inspiration behind Lady Hater?
AB: Thank you! The inspiration was two-fold. The original idea came from when my friend and I went on what we thought was just going to be a normal spa vacation. You know, with massages, facials, some day-drinking. And it was all that in addition to a lot of things that just made me uncomfortable. It was 99% female, and lots of goddess within talk. I mostly thought it was funny how I didn't fit in so I wanted to write a movie that took place in that space. I went home and wrote a script, and my friend did the complete opposite and opened up a meditation studio. But after Trump was elected, I knew if I was going to make fun of these things I needed to take it further and figure out why I was so uncomfortable with it all. I had to take a look at why I called myself a "Guy's Girl," and what that really meant. And through a lot of self-reflection, I ultimately realized that I was pushing women away out of my own insecurity. I wanted to explore all of that in the film.
2. What kind of feedback are you receiving from Lady Hater?
AB: We've been getting a lot of positive feedback from all types of women saying that they can relate to the Sam character. Sam calls herself a "guys girl," but what she really represents is a woman who doesn't think she belongs or doesn't feel like she fits the stereotypical definition of a woman.
3. I thought you did a great job showing a lot of different points of view. I enjoyed the way you used humor. What led you to use this approach?
AB: There are so many huge issues out there today really threatening women and their rights. This isn't one of them. This is something to think about, and a good discussion to be had. But I wanted people to be able to laugh about it and maybe at themselves. I think it helps make everyone relatable in the short.
4. I see that you have worn many hats during your career; actress, writer, producer, and now director. Do you have a preference for one over the others, or do you want to keep trying to do as many as possible?
AB: Ah, that is a tough question. I love acting. It's how I got into this career in the first place. And I will continue to work as an actor whenever given the opportunity, but being behind the camera has been so much more fulfilling on a creative level. My goal is to direct. But I will continue wearing all hats and switch them out as necessary.
5. What are the advantages and challenges in working in a short film?
AB: So many people are making short films these days because it's an attainable thing. You can make a two minute short film and you've made a film! You don't have to raise millions of dollars or have to attach stars to make it happen. So it's really been a great way to showcase your vision and talent. The challenge is, well, it's short. I think the best shorts have a beginning, middle and an end even if they are meant as a proof of concept. It's hard to accomplish that in a small amount of time so you really have to have your story be tight and specific.
6. Do you see yourself moving to directing more films?
AB: My goal is to make "Lady Hater" into a feature film and to direct it. The script is written. Just need the cast and the cash! Beyond that project, yes, I would love to direct more films.
7. Where can people watch Lady Hater?
AB: It screens Friday, August 16th at 10pm at TLC Chinese Theaters as part of HollyShorts. After that it will continue its festival run. You can find additional screening times and dates at www.ladyhaterfilm.com
8. Are there any other mediums you'd like to work in, such as documentaries, animated, tv, webisodes?
AB: I love television. It's where I got my start as an actor. I'm currently pursuing directing television by shadowing directors on shows.
9. Do you have any upcoming projects you'd like to let us know about?
AB: I just directed a scripted, Audible Original Series. I can't talk details yet but everyone will know soon enough! And I'll be recurring on Mayans FX again this season.