IMMIGRATION DOCUMENTARY #WeLaGente NAMED OFFICIAL SELECTION OF OSCAR- QUALILFYING HOLLYSHORTS FILM FESTIVAL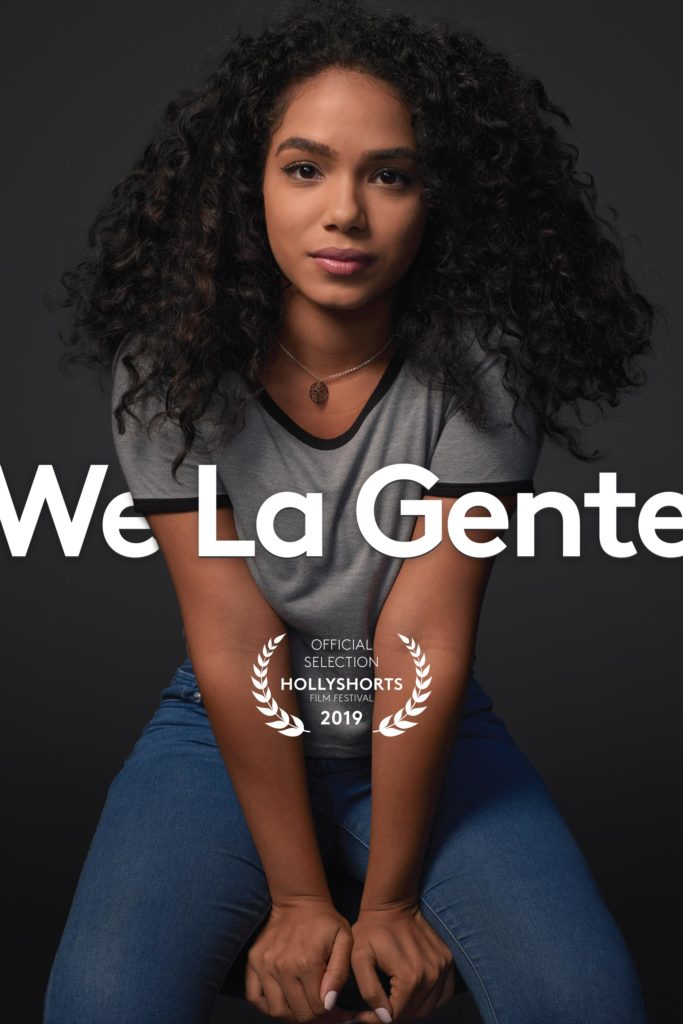 IMMIGRATION DOCUMENTARY #WeLaGente NAMED OFFICIAL SELECTION OF OSCAR- QUALILFYING HOLLYSHORTS FILM FESTIVAL
Documentary on Hispanic Immigrants, #WeLaGente, to screen at the 15th Annual HollyShortsFilm Festival on Tuesday, August 13 at 2:30 PM
The award-winning documentary #WeLaGente has been officially selected to screen at this year's 15th Annual HollyShorts Fim Festival at the iconic TCL Chinese 6 Theatres in Hollywood, CA. #WeLaGente will screen on Tuesday, August 13th at 2:30 PM @TCL CHINESE 6 THEATRE || #6.
The HollyShorts Film Festival announced its list of selected films on July 22 that included the powerful five minute, immigration documentary #WeLaGente directed by John X. Carey and produced by Harry Lowell and Ari Wilhelm for NiteLite Pictures. The HollyShorts Film Festival runs from August 8 – 17th and is an Academy Awards Qualifying Festival.
The documentary #WeLaGente had its theatrical premiere at the prestigious 20th Annual Maui FilmFestival screening to an audience of more than 1,700 and went on to win a coveted Audience Awardfor Documentary Short. Producer Harry Lowell was asked to introduce the film and also participateon a powerful filmmakers panel "Changing the World, One Film at a Time."
With the upcoming 2020 election, the divisive, political immigration discussions and the heart-breaking situation at the U.S. / Mexico border, this tiny, quiet film — and its big, human message —continues to gain momentum and interest with festivals and audiences.
About #WeLaGente (pronounced: We-la-hent-ā) (hybrid English/Spanish translation, opening line ofthe U.S. Constitution: "We the people…")
The powerful, short documentary film, #WeLaGente, takes a non-political, positive, human look atreal Hispanic immigration stories… putting a face to the diversity that adds to the fabric of America.
America is facing a crisis, with a political environment that demonizes immigration, and specificallyHispanic and Latino immigrants. Taking the bold chance to highlight this controversial issue, butremoving all the inflammatory and political bias, this documentary quietly and respectfully shines alight on those who truly honor and make America great. Uniquely held to under 5 minutes in length,the filmmakers wanted to create a compelling, human story that could be watched on a phone "duringa train ride home." The film sparks positive discussions about immigration, while showcasing whatAmerica means to immigrants and the value of Hispanic immigrants to the tapestry of our greatcountry.
Originally intended to speak to an audience that perhaps didn't have much knowledge or contact withHispanic immigrants, it was soon discovered that Hispanics also had a powerful connection to the filmas well. Hispanics saw that this film reflected back to them their families' own personal immigrationstories, whether a first or third generation family story.
Starting with the film's hashtag (and title) #WeLaGente, a quiet little grass roots movement was startedand soon corporate America caught on and to celebrate Hispanic Heritage Month many organizationstweeted or retweeted the #WeLaGente message. But the biggest compliment was seeing ElleMagazine, replicating a key portion of the film, having the newly-elected House of Representativesrecite the Constitution, with one line read proudly in Spanish.
This film has caught the attention of many entertainment platforms with requests for producer HarryLowell to speak about the documentary and its immigration topic, including radio shows and mostrecently at the Marché du Film in Cannes and the Maui Film Festival.
Credits: Director: John X. Carey, Producer: Harry Lowell & Ari Wilhelm, Cinematographer:Chris Saul, Editor: Philip Owens, Music: Reid Willis, Studio Executive: Jose Silva, Production:NiteLite Pictures, Anonymous Content, Distributor: Comcast / Xfinity
About producer Harry Lowell / NiteLite Pictures
Harry is an award-winning TV and film producer, Television Academy member and President ofNiteLite Pictures in Los Angeles. He has produced content from network reality series and 3-hourmusic concerts to theatrical documentaries and Super Bowl commercials for some of the biggestnetworks, studios and advertising clients around.
He founded NiteLite Pictures in Los Angeles which develops and produces original content including documentaries, television series, live musical events and feature films. Harry has worked withnetwork and studio clients including Disney, Dcovery Channel, Syfy, Pixar, History Channel, truTV,Bravo, Knowledge Channel, ESPN and Lionsgate.
He has won numerous awards and produced multiple TOP 10 Super Bowl ads, including the #1 SuperBowl ad in 2016 starring Kevin Hart. Harry has filmed all over the world and worked with numerouscelebrities from the TV, film, music and sports worlds. A Chicago native and hockey fan, Harry hasbeen a frequent speaker and guest on many podcasts, radio programs and news outlets includingVariety and Good Morning America. Most recently he spoke at the Marché du Film in Cannes and atthe Maui Film Festival.
About producer Ari Wilhelm / NiteLite Pictures
Originally from Mexico City, Ari is a documentary and television producer with a reputation ofexecuting relevant, authentic and meaningful films to engage both Hispanic and U.S. audiences. Shelead the opening of the U.S. division of Grupo Chespirito's El Chavo del Ocho brand, one of the mostpowerful brands in Latin America. Ari produced the emotional, Cannes Film Festival selected shortfilm "Eliza" which continues to serve as one of the most influential films in all of Mexico and parts ofCentral America today and has led to saving thousands of women's lives due to its strong and powerfulportrayal of the culture's taboo subject of breast cancer. Ari is a producer with NiteLite Pictures inLos Angeles and has worked and filmed in numerous countries around the globe from Spain andKorea to Argentina and Japan.
About 15th Annual HollyShorts Film Festival
HollyShorts is an organization devoted to showcasing the best and brightest short films from aroundthe globe, advancing the careers of filmmakers through screenings, networking events, and variouspanel and forums. The
Academy Qualifying HollyShorts Film festival showcases the top short films produced 40- minutes orless. The 15th Annual HollyShorts Film Festival will take place August 8 – 17th, 2019, withscreenings at the iconic TCL Chinese 6 Theatres in Hollywood, CA and on the festivals streamingchannel called BITPIX.