Award-Winning Prince Charming Film Review and Interview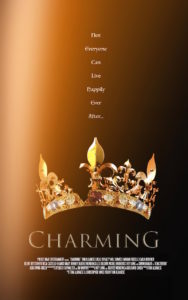 Award-Winning Prince Charming Film a Selection of the HollyShorts Film Festival. The Review and Interview
By Scott Green
August 24, 2016
About the film:
Tom Albaneses Award-Winning film Charming held its L.A. premiere at the recent 12th annual HollyShorts Film Festival
Tom Albaneses debut film Charming, a family comedy that takes classic fairytales and weaves them into Prince Charmings own story.
Charming, a fantasy family comedy, re-imagines classic fairytales with a contemporary touch and spins them into Prince Charmings own yarn as he recounts his disastrous search for true love to a precocious youngster.
Charming most recently took home the awards for Best Comedy Short and Best Supporting Actor at the 2016 Lionshead Film Festival in Dallas, TX, and held its World Premiere at the Maryland International Film Festival in April, where it was nominated for Best Short Film. HollyShorts was its Los Angeles premiere.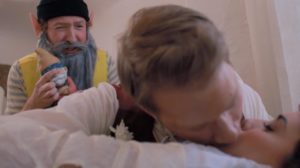 The review:
Charming is an award winning short film that puts a very funny take on the fairy tales that we all know. Don't expect your typical telling of classical fairy tales, but a twisted, humorous look into the life of Prince Charming. This short film was done on a very small budget, but what it lacks in budget it more than makes up for in story and humor. This film is well written and had me laughing throughout. The film was recently a selection of the HollyShorts Film Festival. If you didn't see it there, don't miss it the next time you have a chance. Charming will be next screening at Regal Cinemas L.A. LIVE, September 1st at 3:15 PM as an official selection of the 20th annual LA Shorts Fest. It will be available to view online in the upcoming months.
I heartily recommend this film and hope, that given the talents of its creators, it gets made into a feature length film.
The interview with Tom Albanese
1. What was the inspiration behind Charming?
I was writing a comedy-of-age/rom-com about a guy realizing the girl of his dreams wasnt for him. Id recently seen and fallen in love with Forgetting Sarah Marshall. My problem was there wasnt any real hook with my script. What would make an audience want to see/read my personal story? I was studying at the Neighborhood Playhouse in NY when I was cast as Cinderellas Prince in Into the Woods. I had such a blast playing the guy I ended up making the protagonist in my script Prince Charming and found the hook I was looking for. A fairy tale blended with a live action romantic comedy. I told the idea to my writing partner Christopher Jones and he immediately hopped on board.
2. The film is pretty humorous. Were all the lines scripted out or was there any ad libbing?
Save for a handful of exchanges, most everything in the final cut was scripted. For the scene between Charming and Aladdin, we had an outline of various routes to get to the scenes outcome, and Joey and I just had fun with it. I couldve cut that a hundred different ways. Same goes with the scenes with Charming and the Dwarf (Beeny Royston) and the Kings (Will Hawkes) comments during the dinners with the princesses. There was a ton of great improv that I wouldve loved to keep, but at the end of the day youre telling a story and either need to keep pushing that story forward or say something new about your characters, so I stuck to my guts and trusted what I had written while in the editing stage.
3. In the directors statement you mention that it took a long time to bring to the screen. How much time did it take from inception to final product?
Chris and I wrote the original feature-length screenplay in 2012, which is when it got a good review on ScriptShadow. We optioned it to Lotus/Inferno and they had it for roughly two years while we developed it a bit. After that we got the rights back and let it stew for a couple months before I decided to reinterpret it in the way of a short film. So Charming (although in different incarnations) has been in the making for 4-5 years. The short film took about a year from inception to completion, with different projects and commitments happening in between.
4. Would you like to see this reworked as a feature length film?
Absolutely. Thats always been the endgame. The short takes aspects, some of the same characters and a similar tone to our feature, but the feature is a different beast in many ways. The short was what I could do feasibly in regards to a budget as the feature wont be cheap, but yeah, wed love to see Charming become a feature film. Its absolutely a fun, original story worth spending an hour and a half on.
5. I really liked the part where Charming goes after each princess, especially Snow White. How hard was it to keep from breaking up while filming these parts?
Near impossible with the Snow White segments. There were over 9 takes of the three-shot of the Dwarf, Snow White, and Charming when hes going in for the kiss, all because the three of us couldnt keep it together. Spencer Showalter, our DP on that segment, was a genius being able to cover that in one shot. Otherwise we wouldve been stuck on that for the whole day.
6. You mention the frustrations of the Hollywood system. Can you give some more information on what that entails.
Hollywood moves slowly. Thats not to say people are lazy, but people work on multiple projects at once because the reality is not all of them will be made, and you need be smart in having numerous projects in different stages in case a number of them fall through, which they will. Your project isnt always going to be #1 at a production company or studio, unless Matt Damon decides to sign on.
Relying on other people to get you or your project where you want it to be can be pretty foolish in my experience. Take it into your own hands. Just go for it. Sure, it may not be exactly what you dreamt of, but you need put the wheels in motion somehow. And, if you really love it, if its a story youre burning to tell, you will figure out a way to tell it. Every story needs to start somewhere. Many times you may not know where itll end up, but you miss 100% of the shots you dont take. (credit = Wayne Gretzky, I didnt come up with that one)
7. What are the advantages and challenges in working in a short film?
The main challenge is figuring out how to tell a compelling story in a short amount of time. When people watch features, theyve often paid to watch them and are sitting there because they like the star, director, it got good reviews, etc. With short films, theyre mainly viewed on the internet and often have an unknown cast with a tiny budget. You need to hook them somehow and dissuade them for checking their e-mails or logging onto their Facebook for the umpteenth time. The only way to do that is to tell a great story.
The main advantage is that short films are easier to bring to life than feature films. Thats not to say its easy. Making Charming was incredibly difficult and took a ton of time and effort. There a ton of things Im proud of and also things I wouldve done differently given more resources/time. But short films usually cost less money, have a smaller crew, etc. With that comes a myriad of difficulties, but the blessing of a short film is that you can actually bring your story to life with a small amount of help instead of needing dozens or hundreds of people to join the crew.
8. Do you see yourself eventually moving to feature length films?
Totally. Thats always been my goal. Id love to do a couple more shorts, but my ideas always wind up expanding into features. Ive got a few stories Im burning to tell.
9. Are there any other mediums you'd like to work in, such as documentaries, animated, tv, webisodes?
Animation 100%. Writing/directing/mopping Pixars floor, Im in. I dont have much experience in the actual process of animating, but most of what I find interesting contain fantasy elements, funky characters or animals, which animation is a prime medium for.
With webisodes, I shot three episodes of a comedy series called No Actor Parking along with my friends Tiago Felizardo & Francisco Froes. Its like Entourage meets The Office if the guys in Entourage werent successful. Weve funded the rest of season 1s episodes and are currently in pre-production on them.
10. Do you have any upcoming projects you'd like to let us know about?
We start shooting the rest of season 1 of No Actor Parking this November. Thats going to be an absolute blast. Ive got a couple features Im working on ones a horror/dark comedy similar to American Werewolf in London meets Trollhunter & the others a family comedy/fantasy (similar to Charming) along the lines of Elf. Hopefully Matt Damon signs on to one of them.
To view the trailer:
CHARMING is Written & Directed by Tom Albanese
Story by Tom Albanese & Christopher Jones
Produced by Tom Albanese, Joey Long, Beatriz Mendonca
Executive Produced by Tiago Felizardo, Francisco Froes and David Cohen
Main Cast: Tom Albanese, Lucas Royalty, Will Hawkes, Marian Frizelle, Karla Buckner, Beeny Royston, Patricia Castello-Branco, Nicole Broderick, Mary Bonney, Beatriz Mendonca, Lex Kilgour, Victoria Beck, Joey Long & Simon Barbaro as King Triton