INFOLIST Official Re-Launch Red Carpet Holiday Extravaganza December 5, 2018 at SKYBAR In Hollywood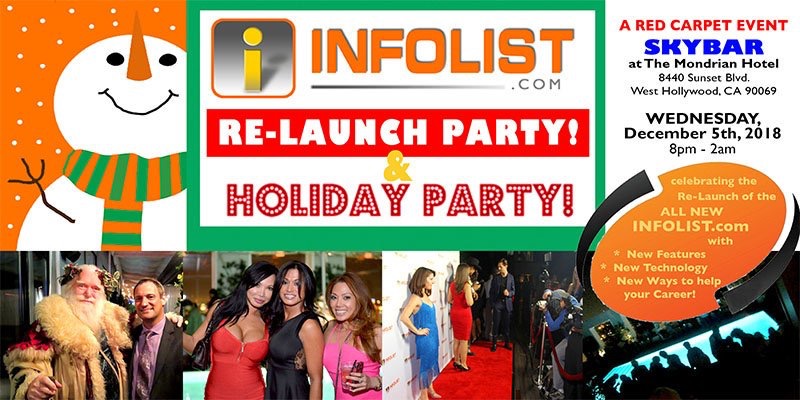 INFOLIST Official Re-Launch Red Carpet Holiday Extravaganza December 5, 2018 at SKYBAR In Hollywood
Don't miss the INFOLIST Official Re-Launch Party and Holiday Extravaganza – A High-End Networking Event with Special Guests from WME, Disney/ABC, and Creatives from Game of Thrones/Star Trek/Harry Potter! Get your tickets today!

It's time for the Hollywood Entertainment Industry Holiday Party of the Year! The INFOLIST RE-LAUNCH PARTY & HOLIDAY EXTRAVAGANZA – in celebration of the recent launch of the all new website with a new look, new features, and more ways to help you connect with other industry professionals to find more work, make your own work, and get your projects made! The biggest party of the year!

And not only will this be a great evening of fun and celebration, it will be a HIGH-END NETWORKING EVENT with top industry Special Guests, including top agent Eric Reid from WME, Television Exec Kristi Shuton from Disney/ABC, and VFX Supervisor Olaf Wendt from Game of Thrones, Star Trek, Harry Potter, and more!

PLUS – we're having an amazing FUN-TECH GIVEAWAY from WOWWEE!! We're giving away the super fun VELOCIRAPTOR FINGERLINGS , as well as a ROKU Streaming Stick – to lucky winners selected from VIP Tickets Holders!

THIS WILL BE A MAJOR NETWORKING EVENT!

You should attend if:

You want to celebrate the holidays in style!

You want to support INFOLIST on the Re-Launch of the new site!

You want to do some high-end networking with top industry professionals!

You want to wish Happy Holidays to Jeff Gund! INFOLIST founder.

You just want to mingle with great people!

The INFOLIST Re-Launch Party & Holiday Extravaganza is taking place here:
SKYBAR at the Mondrian Hotel

8440 Sunset Blvd.

West Hollywood, CA 90069

WEDNESDAY, December 5th, 2018

8pm – 2am

Red Carpet begins at 8pm

DRESS CODE: UPSCALE, HIP, COOL, SEXY!

(Dress Code Enforced by Skybar, so look sharp!)

You MUST RSVP

THIS IS A GUEST LIST ONLY EVENT

GET YOUR TICKETS NOW:

Use Discount Code RELAUNCH25 to get 25% OFF at:

https://infolist-re-launch-party-holiday-extravaganza-2018.eventbrite.com

(limited amount of discount tickets available, so DON'T WAIT!)

THIS WILL BE A MAJOR NETWORKING EVENT!

BOTTLE SERVICE RESERVATIONS GET PREFERENTIAL ENTRY

THIS WILL BE A SOLD OUT EVENT

Please call Skybar to make your Bottle Service Reservations ONLY at (323) 848-6025 or email them at

skybarlatables@sbe.com

Tell them you were sent by Jeff Gund!