Vision Films presents the feel-good, award-winning film that celebrates differences, RANDYS CANVAS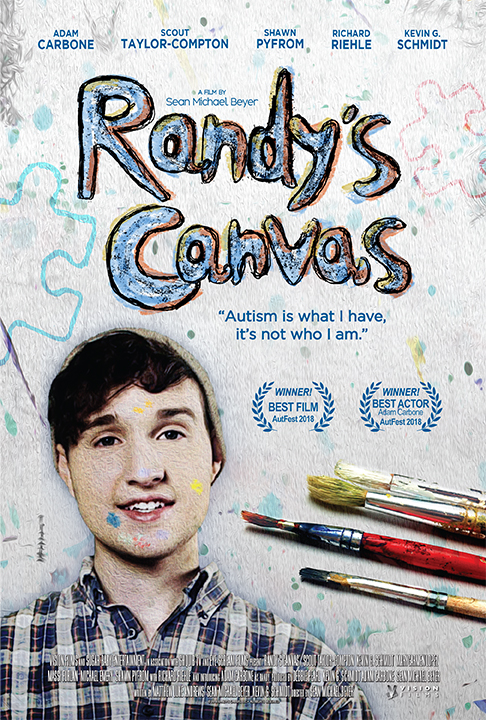 Vision Films presents the feel-good, award-winning film that celebrates differences,
RANDYS CANVAS
Available on DVD/VOD on September 18, 2018
Vision Films and Sugar Baby Entertainment are proud to present Randys Canvas, the new, uplifting fictional feature film about a young man with autism who discovers love for the first time in a confusing world. Through his incredible art, Randy and the world come to understand that what makes him different does not define who he is. Director Sean Michael Beyers thoughtful and inspirational film took top honors at the 2018 Autfest International Film Festival winning Best Film and Best Actor and has been praised by Autism Activist, Dr. Temple Grandin, and Autism Speaks as being a sweet, heart-warming tale, portrayed beautifully.
Starring Adam Carbone (Dude Food with Sean and Sometimes Adam, Another Tango), Scout Taylor-Compton (Rob Zombies Halloween, The Runaways), Kevin G. Schmidt (Cheaper by the Dozen, The Butterfly Effect), Massi Furlan (Live By Night, Supernatural), Michael Emery (Bone Tomahawk, Shameless), Richard Riehle (Office Space, Glory) and Marycarmen Lopez (Queen Sugar, Tragedy Girls), Randys Canvas will be released on DVD/VOD on September 18, 2018 with all profits going to benefit the charity http://www.theautismproject.org
Randy (Adam Carbone, Best Actor, AutFest 2018) is a young man with autism who aspires to be an artist. Curator Maurizio DOro (Massi Furlan) notices his talent and opens many doors for him, including the chance to study with the renowned art professor, Hausdorff (Richard Riehle), and to have his work shown in a gallery. When Randy falls in love for the first time, his life begins to spin out of control as he tries to deal with a roller coaster of emotions and first-time experiences. With the help of his new classmate Cassie (Scout Taylor-Compton) he learns valuable lessons about friendship, emotions and acceptance.
After exclusive screenings at packed theaters in Sean Michael Beyers hometown of Grass Valley, Northern California and Rhode Island, Randys Canvas will have a Los Angeles Release Premiere at the Laemmle Music Hall on September 19th and has also recently been announced as part of the Glendale International Film Festivals 2018 program on October 11th.
Randys Canvas will be available September 18 on Digital for an SRP $4.99 – $9.99 Rent or Buy across all platforms and to Buy on DVD for $12.99
Having dabbled in the arts myself, says writer-director Sean Michael Beyer, I decided Randy would be an aspiring artist who falls in love and has no idea how to deal with those first-time emotions and experiences. I did extensive research into all aspects of autism and worked closely with Adam Carbone (Randy) to a make sure we were as accurate and respectful as possible for those with and affected by ASD, all while telling an entertaining and compelling story.
We were blessed to have the guidance of our panel of experts throughout the development and production of this film says writer-producer Kevin G. Schmidt. Our panel of experts consisted of men and women ranging from early teens to young adults who personally experience Autism Spectrum Disorder (ASD). Not only did our panel assist in shaping the action and characters of the film, they were even involved in the production!
I was impressed with everyones commitment to creating a movie that is accurate as to what its like to live as a person on the autism spectrum, says executive director of The Autism Project, Joanne Quinn. Who better to tell than people you are portraying. Im excited for our teens and families to be active participants in the process.
Randys Canvas is such a touching and inspirational film, we are so excited to be a part of it!, says Vision Films CEO/Managing Director, Lise Romanoff. It has such a great message about acceptance and not just of others, of yourself too.
https://twitter.com/randyscanvas
https://www.facebook.com/randyscanvas
https://www.instagram.com/randyscanvas/
Trailer:
ABOUT VISION FILMS:


Vision Films is an Independent Worldwide Distributor and VOD Aggregator of over 800 Feature Films, Documentaries and Music Programs from some of the most prolific independent film producers in the world. Led by Lise Romanoff, Managing Director/CEO Worldwide Distribution, Vision Films releases 2-4 films a month, across Theatrical, VOD, DVD, and television. http://www.visionfilms.net
ABOUT SUGAR BABY ENTERTAINMENT:
Debbie Pearl is the creator and executive producer of Sugar Baby Entertainment, a full-service production company dedicated to the development of educational, childrens and cause-driven projects. Debbie has been in the entertainment business since 1994 and her love for animals and children has brought her to this point after having a successful and ongoing career as the owner of Paws For Effect, a full service animal company. Additionally, Debbie started Dream Fetchers a non-profit organization where she brings movie star dogs to visit and work with sick and underprivileged children, something she is very passionate about. Randys Canvas is her first Feature Film bringing all these elements together whereby constantly striving to make a difference in not only the film world but the world in general.