Betrayed, movie Review and Interview with Harley Wallen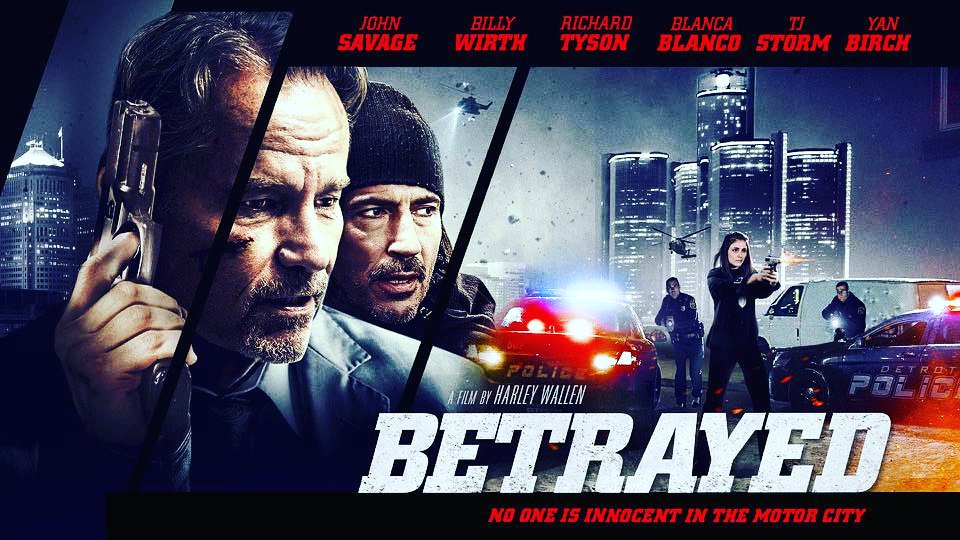 Betrayed, movie Review and Interview with Harley Wallen
By Scott Green
October 20, 2018
Betrayed
Review and interview with Harley Wallen, writer/director/actor/producer of Betrayed.
About the film:
This film is a very timely action crime thriller that probes deep into the gritty world of human trafficking. In an effort to control the city, the Mayor Don Alderman (John Savage, The Thin Red Line) lets the Russian mafia into his city. After the Russians betray him, he opens the city to the Cartel to push them out. Mikhail, the head of the Russian mafia (Harley Wallen, Bennetts Song), counters by kidnapping the Mayors daughter Marie Alderman (Kaiti Wallen, Into A Dark Mind). Caught in the middle of a gang war, Mayor Alderman hires Mike Wolf (Billy Wirth, The Lost Boys) and Alpha (TJ Storm, Punisher Warzone) to rescue his daughter before Mr. Stone (Richard Tyson, Black Hawk Down) puts her on the market to be trafficked.
This film also features Yan Birch, Blanca Blanco, Aphrodite Nikolovski, Sean Rey, Damien Chinappi, Angelina Danielle Cama, Calhoun Koenig, Nick Sarelli and Jennifer Jelsema.
About Harley Wallen:
Multi award-winning filmmaker and actor Harley Wallen has starred in over 40 feature films and TV shows with legendary stars such as Tom Sizemore, Tara Reed, John Savage and Richard Tyson among many others. He started his journey as a martial artist early with Judo at age 7 and is now a 5th degree black belt. Harley also spent time learning other forms of martial arts (Jiu-Jitsu, Tae Kwon Do black belts as well) and Mixed Martial Arts. His other love at a young age was dance as he was an outstanding break dancer in his teen years. His sheer talent and skill is what landed him his first opportunity in acting as dance at the syndicated Swedish TV cult hit Solstollarna! Soon after, he was bitten by the acting bug. Harley then moved from Sweden to the United States to boldly pursue his dreams. After a short stint these plans got side-tracked by business opportunities as Harley climbed various career ladders. After returning to acting, it wasnt long before the roles started coming and the growth he had experienced in the business world started happening to him in the acting world. After the film incentives ended in Michigan, he decided to start making films of his own. Not having a film school background with only limited experience, he decided to go online to further his education in filmmaking and took classes and seminars in acting. Finally, in 2016, Harley and his wife Kaiti formed the film production company Painted Creek Productions. The one thing he really takes pride in is his commitment to the character he is playing regardless of the size of the role or the pay check. Harley is now writing, acting and directing and has found his lifes purpose!
Review of Betrayed:
Betrayed is a gritty crime drama, that tackles the problem of human trafficking in Detroit. Its a hard subject to watch, and aside from the poor women/girls, who are the victims, there arent many characters to root for in this movie. The only true good guy is Detective Miller, played by Aphrodite Nikolovski, the closest anyone else comes is Mike Wolf, played by Billy Wirth. Theres a lot of action and some graphic violence, but it all makes sense in this movie. If you get a chance watch this movie.
Interview with Harley Wallen
First I wanted to thank you for taking the time out for my questions. I enjoyed your movie and look forward to seeing more of your work.
Q:. I enjoyed Betrayed. I found it interesting and sickening, all of the facts about human trafficking. What was the inspiration behind Betrayed?
H: Hey Scott I am so happy that you enjoyed the film because first and for most of film needs to entertain! The inspiration on the other hand its not so pretty… At my church (Kensington) The pastor had a service last year and at that point Michigan was unfortunately rated second highest in trafficking. Hearing some of these numbers made me sick to my stomach and since I am not the kind a filmmaker that would tackle this with a documentary, I thought of a different way to do it, I wanted to put it in our backyards and give it a face and a voice. Hopefully some people spring into action from realizing how big of a problem really is even right here in our backyard.
Q: You had a great cast for this movie. How was it making a movie with all of these actors and how was it making the movie around Detroit?
H: i feel so incredibly blessed having such an amazing cast and such strong performances all around! Its so incredible that we have had four different people win best Actor/Actress Awards or get nominations (John Savage, Blanca Blanco, Kaiti Wallen and Aphrodite Nikolovski). I really love shooting in and around Detroit, to be honest with you it has such a great feel on film and so many amazing locations that almost become an additional character of the film itself and my partner Nancy Oeswein really outdid herself getting fantastic locations for Betrayed.
Q: I see that you have worn many hats during your career; writer, producer, director, etc. Do you have a preference for one over the others, or do you want to keep trying to do as many as possible?
H: Thats a question I get a lot and its a tricky one to answer. I am an actor first and that was my initial and original calling and I still most definitely feel that way. But I must admit that directing is up there for me, telling the story and getting amazing performances out of cast and crew has become one of my new absolute favorite things! The screen writing it all honesty is stress relief for me and usually the best way for me to unwind after a project is wrapped to sensually detached from that and move on. The production side is something I know I am good at but not a very creative side so I dont have the same kind of love for that. Also casting my main cast will always be near and dear to me for sure I love making sure Fit, Screen Presence and Truth in Performance is the best it can be, I love Quentin Tarantinos quote 90% of directing is casting or something like that at least.
Q: Your wife, Kaiti, also wore a number of different hats on the film. Actress, Producer, Casting; is there one that she has a preference for or does she also want to keep doing as many possible jobs as possible?
H: She is absolutely in most definitely an actress but loves helping out so primarily she assists in locations, product placement and bringing onboard sponsors, investors and designers etc. she also has a really good eye for talent and instead of me going through I thousand submissions she can narrow it down to the final five or so for each role. But I know what really makes her come alive and that is role, thats where her true passion is.
Q: How is it working so closely with your wife? Was it difficult to see and treat her as a victim in the movie?
H: You are actually the first one to ask that question Scott! And yes it was very difficult because I saw her preparation and her work getting to this character and it was an emotionally painful and stressful role to take on. But not only her also seeing Angelina Danielle Cama and Calhoun Koenig, two teen girls who I love and adore and feel are family was difficult. We shed a few tears behind the directors monitor on a few occasions.
Q: Where can people watch Betrayed?
H: Im incredibly excited to say just about everywhere, but let me be a little bit more specific.
CABLE PROVIDERS:
Comcast VOD
Comcast EST
Verizon VOD
Verizon EST
Dish
Time Warner
Cox
Charter
Frontier
Other VBQ
DVDs are available at
Amazon
Walmart
Target
Best Buy
FYE
And also on Fandango
Q: I understand that you are a martial artist. Did you do your own stunts or fight choreography?
H: Yes I am, Im a inductee in Martial Arts Hall of Fame and a 5th degree black Best in Judo, 1st in TKD and 1st in Jiu-Jitsu as well as a retired Mixed Martial Artist (I actually still do some color commentary and host the show for WXC in UFC Fightpass. The next show is November 9, hopefully some people will tune in these guys do an amazing job matchmaking incredible fights). But I absolutely love doing fight choreography for my films! Working with the absolutely amazing TJ Storm on Betrayed we collaborated a lot on the fight scenes, it was a lot of fun!
Q: Are there any other mediums you'd like to work in, such as documentaries, animated, tv, webisodes?
H: You know as an actor I would love to do some guest starring in crime drama, thriller or something in that general direction when the right opportunity comes. And it would be really fun to be the voice to an animated character I feel you really get to color outside the lines and that seems like an incredible experience!
Q: Do you have any upcoming projects you'd like to let us know about?
H: There is so much in the works right now as far as releasing its very exciting time for me. Moving Parts releases earlier this year, Bennetts Song was just released 45 days prior to Betrayed and next year starts with a bang as Abstruse and Enigma hit the market in the first quarter. Then after that we are likely to be back in Hollywood for another screening or two as Agramons Gate, my first stab at horror film and Im super excited, its looking so good starring the amazing Laurene Landon and Yan Birch with chilling performances from them both followed by what I believe will be a next level kind of film in Abeyance. In Abeyance I took everything to a new level, the cinematography with Jackson Swan and the script that the actors absolutely fell in love with and the genres of Thriller, Action with a Sci-Fi touch in a very hot topic about genetic research and the dilemma of just because we can doesnt mean we should I think we are approaching more and more of those fundamental questions and wrestling with morality and playing God, how far is far enough?!?
Scott thank you so much for taking the time to do this I really enjoyed the questions and I hope that you can make the next premier as well!