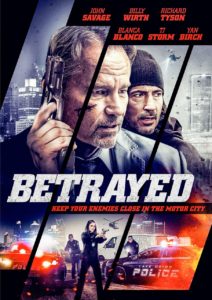 BETRAYED WORLD PREMIERE
On Wednesday Sept 26th, Betrayed will have its world premiere at the TCL Chinese Theatres 6 in 6801 Hollywood Blvd, Hollywood, CA 90028
This much anticipated action crime thriller from multi award-winning actor and filmmaker Harley Wallen, Betrayed, stars Richard Tyson, John Savage, Billy Wirth, TJ Storm, Yan Birch, Kaiti Wallen, and Blanca Blanco.
WHO: Numerous celebrities and VIPs are expected at this event such as filmmaker/actor Harley Wallen (Bennetts Song), Richard Tyson (Kindergarten Cop), John Savage (The Thin Red Line), Billy Wirth (The Lost Boys), TJ Storm (Deadpool), Kaiti Wallen (Into A Dark Mind), Yan Birch (The People Under the Stairs) and Blanca Blanco (Fake News). Other celebrities expected are Scout Taylor-Compton (The Runaways), Jake Busey (Stranger Things), Claudia Christian (Babylon 5), Naomi Grossman (American Horror Story), Caroline Williams (The Texas Chainsaw Massacre 2), Dave Sheridan (Sky Sharks), Kelly Jo Minter (Summer School), Elissa Dowling (Dahmer vs Gacy) and Vida Ghaffari (The Mindy Project).
WHEN: Wednesday, September 26th
movie premiere: 7:30pm
WHERE: TCL Chinese Theatres 6 at 6801 Hollywood Blvd, Hollywood, CA 90028
PARKING: Park for up to 4-hours for $2 with validation from the TCL Chinese 6 Theatres. ($2.00 every 20 minutes thereafter).
Betrayed Trailer:
http://s.bl-1.com/h/coZmH6f8?url=https://youtu.be/8M8oqY2ohvY