Real Artists An Award winning short film. Review and Interview with Director Cameo Wood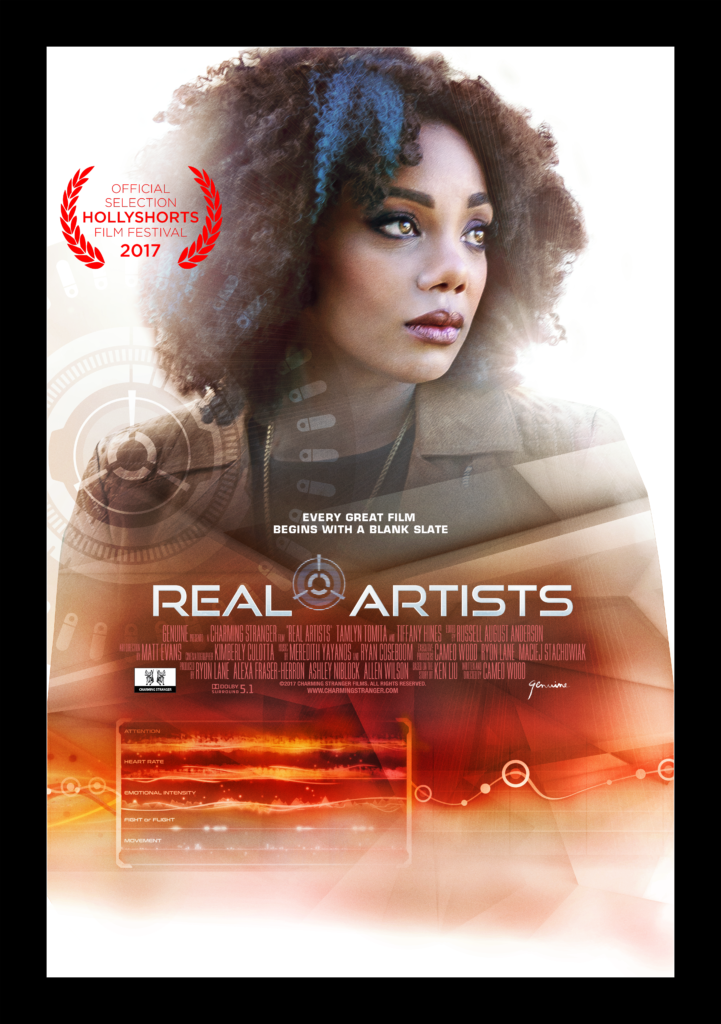 Real Artists An Award winning short film. Review and Interview with
Director Cameo Wood
By Scott Green
August 22, 2017
At the recent Hollyshorts Film Festival Real Artists won the award for Best VXF.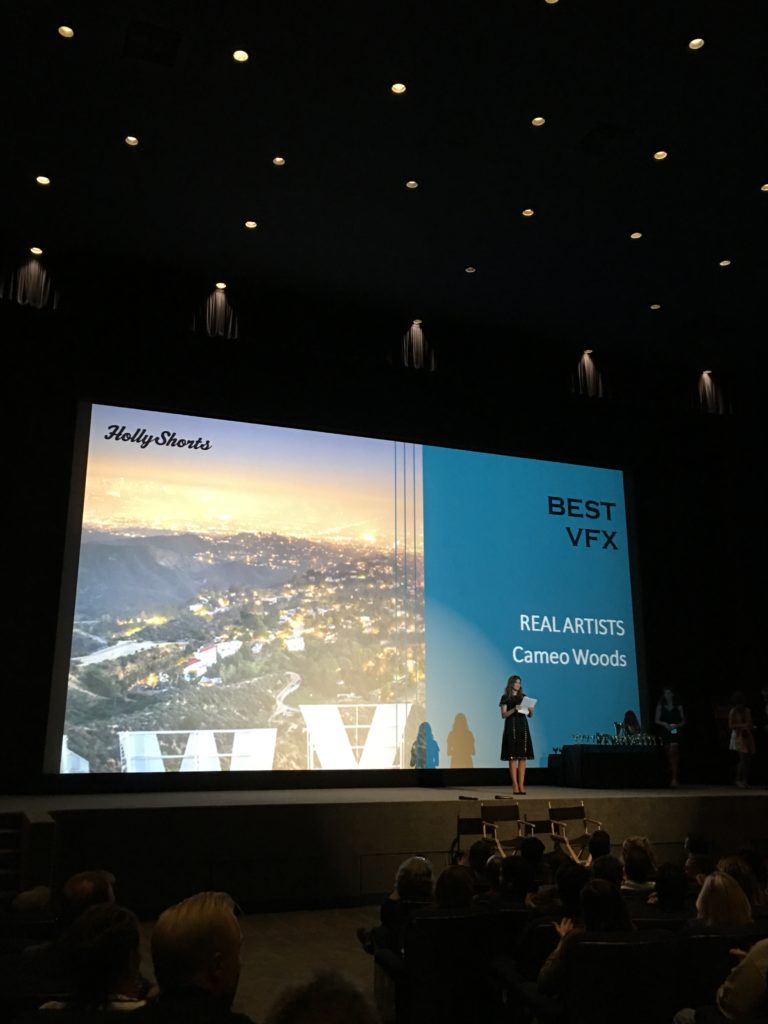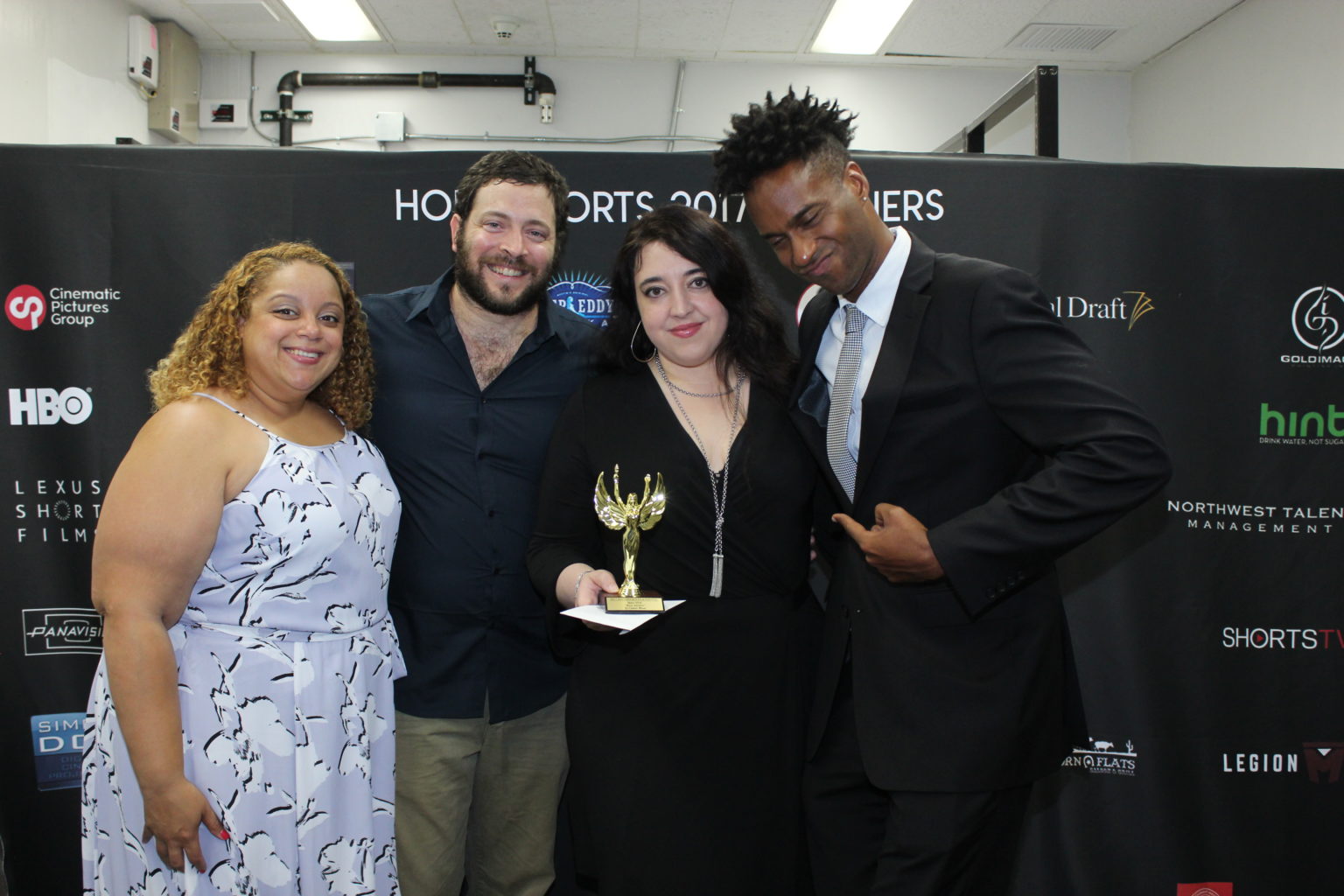 Synopsis:
Sophia, a young animator is offered what should be her dream job. But when she discovers the truth of the modern "creative" process, she must make a hard choice about her passion for film. Is making movies scientifically written to appeal to the broadest crowd with the aid of artificial intelligence the same thing as being a "real artist"?
Set in an unsettling tomorrow, "Real Artists" is the new sci-fi short film from award-winning director/screenwriter Cameo Wood (Dukha in Summer) and based on the short story by Hugo, Nebula, and World Fantasy-winning author Ken Liu (The Grace of Kings).
In addition to pushing boundaries by exploring technological issues that are about to radically change the film industry, "Real Artists" was produced with a cast & crew that consisted of 75% women, and 50% people of color.
Review:
The film opens up with a seemingly innocent job interview for a recent film school graduate to an entertainment company. As the film progresses though, you see that the creative process has a taken on a new meaning. Everything is now being done via computer programs and algorithms. The human element is almost completely removed. You see what is going on through the eyes of the companies cameras and computer analysis of the interviewee.
The effects are first rate, and the story is believable, which is also what makes it so scary. Are we getting to the point where there is no real creativity left? Are we giving up our decisions to artificial intelligence and algorithms? Is there any free will left? What is a real artist in this new world? I found the issues this film presented scared me and made me wonder just how much of this is going on now.
I recommend that if you get the chance, that you go to see this film. It is well done and like all well done movies will make you ask questions even after the final credits roll.
Interview with Cameo Wood:
What was the inspiration behind Real Artists?
It's a story about a young woman interviewing for her dream job at a large animation studio. During the course of the interview, she finds out that the films she loves and adores are no longer made by people but instead by an Artificial Intelligence (AI). There is a further twist to that and it touches on themes of memory erasure and what it means to be a 'real artist'. It's based on a short story by the acclaimed author Ken Liu. I first read the story in 2012, he had just published one of his very first short stories in the MIT Alumni magazine, which is where I first read him. Since then, he's now been tasked with writing the new Hans Solo novel, he has won every single major Sci-Fi award, he is a NY Times best selling translator of a novel that was Barak Obama's favorite book last year. He has really come up in the world. Because I have a background in medical neuro-science and AI, which are both themes in the story, I felt uniquely situated to understand the deeply scientific ideas and the long term future ramifications of having a lot of our major art being determined by an AI.
You wear a lot of hats in this film writing, directing, and producing. Was it difficult to do all of them so well? Is there one that you prefer over the others?
I think writing is a way of knowing and mastering the story – something that is absolutely a requirement for directing. I love directing the most, but I feel that screenwriting is the where the real work happens. Without story, a movie isn't worth making.
You have experience and education in both the artistic and academic side. It seems like they go hand-in-hand in this film, but did you find yourself leaning more one way or another in this film?
A film is a machine – it will happen with or without you. I think that my academic and technical background helped me have a methodology and plan for the film, so that that our shoot days were effortless. During pre-production and post, I am very technical and organized, but during shooting, I am relaxed and almost carefree, living in the moment with the actors. At the point that we begin capturing photons, I know the story and shots so well, I have the freedom to be artistic.
I found this film very interesting and also very scary. Is this the reaction that you are hoping for in the audience?
When I was making the script, I repeatedly said that the best compliment I could get is that people found it a little frightening and beautiful, but mostly that they wanted to see it again. So I'd say your reaction is exactly the response I wanted!
With your background in academia and knowledge of the subject, how close do you think we are to the technology and its use as portrayed in this film?
Nearly all the technology in my film already exists, although the integrated systems for the technology does not exist. I did not intend to imply that Big Semi was conscious or autonomous, but rather was a very focused and specific neural network. And I think we have fairly amazing AIs that have performed unique and unexpected work as film editors, screen writers, and script reviewers. At Cannes this year I even met a company that does neurocinematics as a service; a filmmaker submits their film, they screen it for an audience while they are in an MRI, and they give you the results. So we have many of the building blocks of Big Semi and Semaphore Studios, but to the best of my knowledge, no one has united them in concert to filmmaking. At least, I don't remember anything like that happening.
In reading the description of the film and its cast and crew, over 75% were either women or people of color. How was that experience as compared to a male dominated production? Do you see this as a trend where films, tv, etc will be more inclusive?
I think that sometimes it is easy for filmmakers to just hire whomever has the most experience, or hire people and their friends for greatest convenience. But filmmaking is a collaborative art, and at the end of the day, absolutely everyone involved in the film will leave their mark on it, and the more diverse those imprints are, the more interesting and exciting your film will become.
What is your goal for this film? What are you hoping the audience takes away from it?
Ubiquitous artificial intelligence is inevitable, and while my film is framed in a dystopic manner, I think that AI will largely be invisible and delightful. Most of us already use AI daily. It's one of those 'the Devil you know' scenarios. Unknown and nascent AI is terrifying, but the AI in our pockets is friendly and helpful. I'm hoping that audiences gain some circumspection about AI and privacy, but mostly that they enjoy the twists and turns along the way.
What are the advantages and challenges in working in a short film?
Short films are such a tight and spare opportunity to communicate a story. The process of making a short is a challenge to make every line contribute to the beats in the scene, and is much more unforgiving than a feature. It's a gift to any filmmakers education.
Do you see yourself eventually moving to directing in feature length films?
I'm working on my first feature now and will be announcing the project on September 12th – I can't wait to share it with you!
Are there any other mediums you'd like to work in, such as documentaries, animated, tv, webisodes?
I've got a TV show that I'd love to make, and I have dabbled in documentaries and news journalism as a young person. I just love long form storytelling in all its forms.
Do you have any upcoming projects you'd like to let us know about?
Stay tuned!
Where will this film be shown next?
A lot of places! Take a look at http://realartists.film/screenings
Imagine a World Where Films are Written with Artificial Intelligence…


"Real Artists" Explores The Future of Creativity

The science fiction short film (as seen in indieWIRE) stars renowned actress Tamlyn Tomita (Four Rooms, The Joy Luck Club, The Day After Tomorrow) and marks the debut of Tiffany Hines (24: Legacy, Bones) in a sci-fi indie role.

"Real Artists" will screen at THREE Los Angeles area festivals in August, including LA Shorts Festival, HollyShorts, and New Filmmakers Los Angeles (Aug. 26). Director Cameo Wood has studied artificial intelligence and neuroscience at Simon's Rock College of Bard and Duke University, participating in the first "Original Imitation Game" (aka Turing Test) as seen in Wired.

"Real Artists" was produced with a cast & crew that consisted of 75% women, and 50% people of color.
"We felt it was the right time to take a hard look at the issues surrounding the future filmmaking, and what it may be like to collaborate with an AI. We're envisioning a near future when it's more efficient to have an artificial intelligence create a film and test it on a human audience."
-Director Cameo Wood
THE DIRECTOR
Cameo Wood is a life-long lover of science fiction, with an academic background to boot. She has studied artificial intelligence and neuroscience at Simons's Rock College of Bard and Duke, and even did the first "Original Imitation Game" (aka Turing Test) as seen in Wired. Cameo continues to work closely with a community of scientists and storytellers, including The Long Now Foundation, a group that fosters long term thinking.
Tamlyn Tomita
Tamlyn Tomita made her screen debut in The Karate Kid Part II, and continued to create rich and engrossing characters in feature films such as Come See the Paradise opposite Dennis Quaid, the film adaptation of Amy Tan's bestselling novel The Joy Luck Club, in Picture Bride (Audience Award winner, 1995 Sundance Film Festival), and Four Rooms opposite Antonio Banderas. She can currently been seen playing Noshiko Yukimura in Teen Wolf on MTV, and autumn 2016 on EPIX in the new series Berlin Station with Richard Artimage.
Tiffany Hines
Tiffany Hines is known for her memorable television roles as Birdie Scott on Beyond the Break, Michelle Welton on Bones, Didi Miller on Devious Maids, Jaden on Nikita, and Kelly Baptiste on Damien. She can be seen on the new show 24: Legacy as Aisha with costar Corey Hawkins."It sounds so out there, but we are technologically advanced these days and who knows, maybe it's just around the corner. It's kind of scary to think about." -Tiffany Hines
"We have to be responsible for how we progress, and that's a big burden. I think a real artist is going to bring about that question." -Tamlyn Tomita
"Real Artists" has played at over 45 film festivals around the world, including:
Copyright 2017 Smarthouse Creative, All rights reserved.
Images courtesy of: Dumont Marketing (Ozzy Torres), Smarthouse Creative, and Scott Green