The Changing Face of Alien Superhero Zen Intergalactic Ninja as he Celebrates His 30th Anniversary at Comic-Con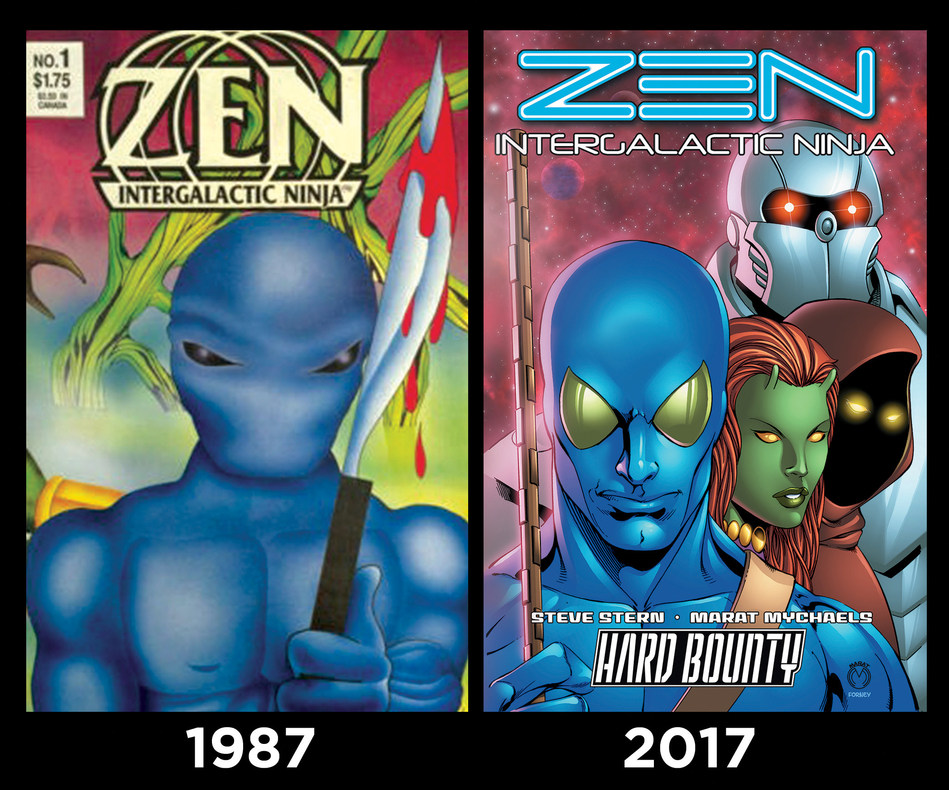 The Changing Face of Alien Superhero Zen Intergalactic Ninja as he Celebrates His 30th Anniversary at Comic-Con
Comic-book heroes are known for going through radical transformations. Some, like Superman, die and come back to life. Others, like Thor, are sometimes male, sometimes female. In the case of Zen Intergalactic Ninja, he literally grew a new face.
"It was 30 years ago, in 1987, that artist Dan Cote and I self-published Zen Intergalactic Ninja #1," said writer Steve Stern. "As can be seen on its cover, Zen's only facial feature was a set of eyes. That was in keeping with the general conception what an alien looked like at the time. Or at least what people thought an alien looked like."
Thirty years later, 1First Comics' Zen Intergalactic Ninja is one of the few independent titles that has more than 100 comics to its credit.
"For much of his publishing history, Zen didn't have a nose or a mouth," said Cote. "Many readers were convinced that he was wearing a mask, and likened him to a blue Spider-man."
The difference was that when Peter Parker wanted to talk or eat, he simply opened his mouth. "In Zen's case, we had to explain that he communicated telepathically," said Stern. "And when it came to eating, I had to devise the concept of telekinetic metabolation."
When Zen was spun off into two videogames from Konami, plus a line of action figures from Just Toys, he still only had a set of eyes.
Eventually, thoughas can be seen on the cover of 1First Comics' Zen: Hard Bounty trade paperbackZen literally grew a nose and mouth. "That event happened in a book called Zen: Bounty Hunter," Stern explained. A special commemorative edition will be available at Comic-Con. "Actually, I had always wanted Zen to have more of a face, and had been thinking about how to make that happen. I was encouraged by actors interested in portraying Zen on film, but who wanted their face to be seen. Since there has recently been renewed interest in that happening, I feel I made the right decision."
Stern and Cote will appear at booth #2001 during Comic-Con with 1First Comics publisher and Preacher Executive Producer Ken F. Levin. Said Levin, "Zen is a true independent comics phenomenon. We're looking forward to his next thirty years, including finally seeing him come to life on the screen."
SOURCE 1First Comics